01.12.2018 | Research | Ausgabe 1/2018 Open Access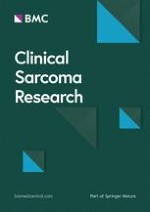 Aggressive fibromatosis response to tamoxifen: lack of correlation between MRI and symptomatic response
Zeitschrift:
Autoren:

M. Libertini, I. Mitra, W. T. A. van der Graaf, A. B. Miah, I. Judson, R. L. Jones, K. Thomas, E. Moskovic, Z. Szucs, C. Benson, C. Messiou
Abstract
Background
One of the commonly used systemic agents for the treatment of aggressive fibromatosis is the anti-oestrogen drug tamoxifen. However, data on efficacy and optimum methods of response assessment are limited, consisting mainly of small case series and reports.
Methods
A retrospective database was used to identify consecutive patients diagnosed with aggressive fibromatosis (AF) and treated with tamoxifen plus/minus non-steroidal anti-inflammatory drugs at our tertiary referral centre between 2007 and 2014. MRI and symptom changes were recorded.
Results
Thirty-two patients (13 male 19 female, median age 41 years) were included. Median duration of treatment with tamoxifen was 316 days. Of 9 patients with progressive disease by RECIST 1.1 (28%): 4 patients experienced worsening symptoms; 3 patients had improved symptoms and 2 had no change in symptoms. Of 22 patients with stable disease (69%): 11 had no change in symptoms; 6 had improved symptoms and 5 patients had worsening symptoms. One patient achieved a partial response with improved symptoms.
Conclusions
No relationship was identified between symptomatic benefit and response by RECIST 1.1 on MRI. Prospective studies in AF should incorporate endpoints focusing on patient symptoms.