01.12.2017 | Research article | Ausgabe 1/2017 Open Access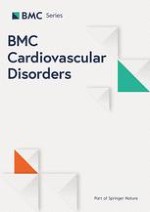 Aging and obesity are associated with undiagnosed hypertension in a cohort of males in the Central Province of Sri Lanka: a cross-sectional descriptive study
Zeitschrift:
Autoren:

N. W. I. A. Jayawardana, W. A. T. A. Jayalath, W. M. T. Madhujith, U. Ralapanawa, R. S. Jayasekera, S. A. S. B. Alagiyawanna, A. M. K. R. Bandara, N. S. Kalupahana
Abstract
Background
Lifestyle factors associated with hypertension (HT) in South Asian populations are relatively unknown. The objective of the current study was to investigate the prevalence rates of undiagnosed HT and factors associated with it in a cohort of males from the Central Province of Sri Lanka.
Methods
The study group consisted of 2462 males (mean age 31 years, range: 16–72 years) who underwent a routine medical examination at the National Transport Medical Institute, Kandy, Sri Lanka. Participants with previously diagnosed heart disease, diabetes, hypertension or other chronic illnesses were excluded from this study. Dietary and other lifestyle factors were studied using validated self-administered questionnaires. Body Mass Index (BMI) cut-off values for Asians were used to categorize the subjects according to weight status. The association of individual dietary and lifestyle patterns with HT was assessed by fitting into binary logistic regression models.
Results
The mean systolic (SBP) and diastolic blood pressures (DBP) of the individuals were 125.9 mmHg and 80.5 mmHg, respectively. The prevalence rate of undiagnosed HT was 31.7%. Both SBP and DBP showed significant positive correlations with age, weight, BMI and waist circumference. After adjusting for potential confounders, HT was associated with older age (
p
= 0.001) and increased weight status (
p
< 0.001) with trends of association for level of education (
p
= 0.058). Level of income, alcohol consumption, sleeping hours, smoking, physical activity level, ethnic difference, consumption of fruits, fish, meat, dairy, sweets or fried snacks were not significantly associated with HT. Obese males were 92.1% [odds ratio: 1.9 (1.4–2.7)] more likely to be hypertensive compared to normal weight males.
Conclusions
Undiagnosed HT is prevalent at an alarming rate among adult males in the Central Province of Sri Lanka. Its association with age and BMI (weight status) highlights the importance of routine screening for HT as well as interventions targeted at reducing obesity to curb the rise of this modifiable cardiovascular disease risk factor.