21.04.2018 | Original Article | Ausgabe 9/2018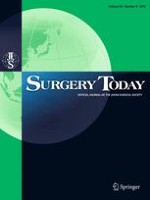 Airway complications have a greater impact on the outcomes of living-donor lobar lung transplantation recipients than cadaveric lung transplantation recipients
Zeitschrift:
Autoren:

Seiichiro Sugimoto, Masaomi Yamane, Shinji Otani, Takeshi Kurosaki, Shuji Okahara, Yukiko Hikasa, Shinichi Toyooka, Motomu Kobayashi, Takahiro Oto
Wichtige Hinweise
Meeting presentation: Presented at the 37th annual meeting and scientific sessions of the International Society for Heart and Lung Transplantation, San Diego, CA, USA, April 2017.
Abstract
Purpose
Airway complications (ACs) after living-donor lobar lung transplantation (LDLLT) could have different features from those after cadaveric lung transplantation (CLT). We conducted this study to compare the characteristics of ACs after LDLLT vs. those after CLT and investigate their impact on outcomes.
Methods
We reviewed, retrospectively, data on 163 recipients of lung transplantation, including 83 recipients of LDLLT and 80 recipients of CLT.
Results
The incidence of ACs did not differ between LDLLT and CLT. The initial type of AC after LDLLT was limited to stenosis in all eight patients, whereas that after CLT consisted of stenosis in three patients and necrosis in ten patients (
p
 = 0.0034). ACs after LDLLT necessitated significantly earlier initiation of treatment than those after CLT (
p
 = 0.032). The overall survival rate of LDLLT recipients with an AC was significantly lower than that of those without an AC (
p
 = 0.030), whereas the overall survival rate was comparable between CLT recipients with and those without ACs (
p
 = 0.25).
Conclusion
ACs after LDLLT, limited to bronchial stenosis, require significantly earlier treatment and have a greater adverse impact on survival than ACs after CLT.