11.04.2020 | Ausgabe 4/2020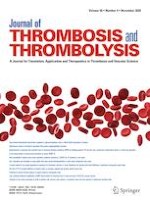 Albumin and bleed risk in rivaroxaban treated patients
Zeitschrift:
Autoren:

E. Wojakowski, C. Cheruvil, A. Hassan, M. R. Holsen, L. Chen, M. Rossi, N. Wilcox, A. E. Woodruff
Wichtige Hinweise
Electronic supplementary material
Publisher's Note
Springer Nature remains neutral with regard to jurisdictional claims in published maps and institutional affiliations.
Abstract
Drugs exhibiting high protein binding have potential increased action in patients with hypoalbuminemia. Rivaroxaban is 92–95% protein bound, but the clinical effects of rivaroxaban in patients with low albumin are largely unknown. The purpose of this study was to evaluate the relationship between albumin and bleeding in rivaroxaban treated patients. This was a retrospective cohort study of hospitalized adults who received rivaroxaban and had an albumin level measured during admission between January and October 2017. Patients who experienced bleeding events while receiving rivaroxaban therapy where compared to those who did not. A multivariable logistic regression model was used to evaluate the association between albumin levels and bleeding events. A total of 368 patients were included; 30 experienced a bleeding event and 338 did not. The mean ± standard deviation albumin level nearest to the time of rivaroxaban initiation was significantly lower in patients who experienced a bleeding event (3.0 ± 0.75 g/dL vs 3.66 ± 0.54 g/dL, p < 0.0001). The multivariable logistic regression model yielded an almost 4.5 fold higher risk of bleeding (adjusted odds ratio 4.405; 95% confidence interval 2.21–9) with any 1 g/dL reduction in albumin. Admission hemoglobin was also associated with bleed risk in the model. Albumin levels were significantly associated with bleed risk in patients receiving rivaroxaban. Albumin levels should be considered when evaluating candidates for rivaroxaban therapy.