01.12.2018 | Research article | Ausgabe 1/2018 Open Access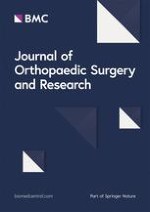 Alcohol exposure decreases osteopontin expression during fracture healing and osteopontin-mediated mesenchymal stem cell migration in vitro
Zeitschrift:
Autoren:

Roman M. Natoli, Henry Yu, Megan Conti-Mica Meislin, Pegah Abbasnia, Philip Roper, Aleksandra Vuchkovska, Xianghui Xiao, Stuart R. Stock, John J. Callaci
Abstract
Background
Alcohol consumption is a risk factor for impaired fracture healing, though the mechanism(s) by which this occurs are not well understood. Our laboratory has previously shown that episodic alcohol exposure of rodents negatively affects fracture callus development, callus biomechanics, and cellular signaling which regulates stem cell differentiation. Here, we examine whether alcohol alters chemokine expression and/or signaling activity in the mouse fracture callus during early fracture healing.
Methods
A mouse model for alcohol-impaired tibia fracture healing was utilized. Early fracture callus was examined for alcohol-effects on tissue composition, expression of chemokines involved in MSC migration to the fracture site, and biomechanics. The effects of alcohol on MSC migration and cell adhesion receptors were examined in an in vitro system.
Results
Mice exposed to alcohol showed decreased evidence of external callus formation, decreased callus-related osteopontin (OPN) expression levels, and decreased biomechanical stiffness. Alcohol exposure decreased rOPN-mediated MSC migration and integrin β1 receptor expression in vitro.
Conclusions
The effects of alcohol exposure demonstrated here on fracture callus-associated OPN expression, rOPN-mediated MSC migration in vitro, and MSC integrin β1 receptor expression in vitro have not been previously reported. Understanding the effects of alcohol exposure on the early stages of fracture repair may allow timely initiation of treatment to mitigate the long-term complications of delayed healing and/or fracture non-union.