01.12.2017 | Research article | Ausgabe 1/2017 Open Access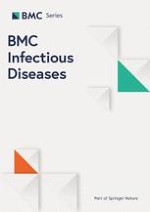 Alcohol use disorders among people living with HIV/AIDS in Southern Brazil: prevalence, risk factors and biological markers outcomes
Zeitschrift:
Autoren:

Cláudio Moss da Silva, Raúl Andrés Mendoza-Sassi, Luisa Dias da Mota, Maíba Mikhael Nader, Ana Maria Barral de Martinez
Abstract
Background
Alcohol abuse is an important public health problem, frequently unrecognized among people living with HIV/AIDS (PLWHA), and requires investigation and intervention. It is usually associated with lower adherence to highly active antiretroviral therapy (HAART). It can also produce adverse clinical outcomes, such as changes in certain HIV markers, particularly CD4 cell counts and HIV viral loads (VLs). Thus, this study aimed to evaluate the prevalence of alcohol abuse among PLWHA, its associated risk factors and effects on CD4 cell counts and HIV VLs in southern Brazil.
Methods
Between December 2012 and July 2013, 343 patients were interviewed at a reference hospital in southern Brazil. The instrument used was the Alcohol Use Disorder Identification Test (AUDIT), and a cutoff of eight points or more was applied. Socioeconomic, demographic, clinical and laboratory data were also collected. The statistical analysis included a Poisson regression to evaluate the factors associated with alcohol use disorder, and a linear regression was performed to assess the relationship between AUDIT scores and CD4 cell counts and HIV VLs.
Results
Alcohol abuse was present in 28.6% of the respondents, and possible dependence was present in 5%. The risk factors identified included being male, mixed or black skin color, low education and the use of intravenous or inhaled drugs. A higher AUDIT score was associated with a lower CD4 cell count but was not associated with higher HIV VL values.
Conclusions
Our results show the importance of screening for alcohol abuse in this group. The prevalence of alcohol abuse was high, and it was associated with socioeconomic factors and the use of illicit drugs. Moreover, AUDIT score negatively affected CD4 cell counts as well.