01.12.2018 | Research article | Ausgabe 1/2018 Open Access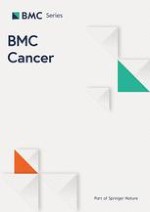 ALDH1A3 upregulation and spontaneous metastasis formation is associated with acquired chemoresistance in colorectal cancer cells
Zeitschrift:
Autoren:

Erika Durinikova, Zuzana Kozovska, Martina Poturnajova, Jana Plava, Zuzana Cierna, Andrea Babelova, Roman Bohovic, Silvia Schmidtova, Miroslav Tomas, Lucia Kucerova, Miroslava Matuskova
Wichtige Hinweise
Lucia Kucerova and Miroslava Matuskova contributed equally to this work.
Abstract
Background
Efficiency of colorectal carcinoma treatment by chemotherapy is diminished as the resistance develops over time in patients. The same holds true for 5-fluorouracil, the drug used in first line chemotherapy of colorectal carcinoma.
Methods
Chemoresistant derivative of HT-29 cells was prepared by long-term culturing in increasing concentration of 5-fluorouracil. Cells were characterized by viability assays, flow cytometry, gene expression arrays and kinetic imaging. Immunomagnetic separation was used for isolation of subpopulations positive for cancer stem cells-related surface markers. Aldehyde dehydrogenase expression was attenuated by siRNA. In vivo studies were performed on SCID/bg mice.
Results
The prepared chemoresistant cell line labeled as HT-29/EGFP/FUR is assigned with different morphology, decreased proliferation rate and 135-fold increased IC50 value for 5-fluorouracil in comparison to parental counterparts HT-29/EGFP. The capability of chemoresistant cells to form tumor xenografts, when injected subcutaneously into SCID/bg mice, was strongly compromised, however, they formed distant metastases in mouse lungs spontaneously. Derived cells preserved their resistance in vitro and in vivo even without the 5-fluorouracil selection pressure. More importantly, they were resistant to cisplatin, oxaliplatin and cyclophosphamide exhibiting high cross-resistance along with alterations in expression of cancer-stem cell markers such as CD133, CD166, CD24, CD26, CXCR4, CD271 and CD274. We also detected increased aldehyde dehydrogenase (ALDH) activity associated with overexpression of specific ALDH isoform 1A3. Its inhibition by siRNA approach partially sensitized cells to various agents, thus linking for the first time the ALDH1A3 and chemoresistance in colorectal cancer.
Conclusion
Our study demonstrated that acquired chemoresistance goes along with metastatic and migratory phenotype and can be accompanied with increased activity of aldehyde dehydrogenase. We describe here the valuable model to study molecular link between resistance to chemotherapy and metastatic dissemination.