01.03.2004 | Original Article | Ausgabe 2/2004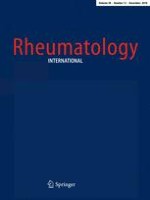 Alendronate treatment of established primary osteoporosis in men: 3-year results of a prospective, comparative, two-arm study
Zeitschrift:
Autoren:

J. D. Ringe, A. Dorst, H. Faber, K. Ibach
Abstract
Our trial was a 3-year, open-label, prospective, comparative, clinical study comparing the effects of oral alendronate (ALN), 10 mg daily, and alfacalcidol (AC), 1 μg daily, on bone mineral density (BMD), fracture events, height, back pain, safety and tolerability in 134 men with established primary osteoporosis. All men received 500 mg calcium daily. BMD was measured at the lumbar spine and femoral neck using dual-energy X-ray absorptiometry (DXA). Spine radiographs were obtained at baseline and every 12 months thereafter, and were evaluated by a radiologist blinded to treatment assignment. At 3 years, AC-treated patients showed a significant mean increase of 3.5% in lumbar spine BMD, compared with a mean increase of 11.5% in men receiving ALN (
p
<0.0001 between groups). The corresponding increases in femoral neck BMD were 2.3% and 5.8% for the AC and ALN groups, respectively (
p
=0.0015 between groups). Over 3 years, new vertebral fractures occurred in 24.2% of the AC-treated patients and in 10.3% of the ALN-treated patients (
p
=0.040). ALN-treated patients also had a significantly lower height loss. There were no between-group differences regarding nonvertebral fractures or changes in back pain. Both therapies were well tolerated, with a compliance rate >90%. We conclude that although AC has significant effects on BMD, ALN has greater effects on BMD and fracture efficacy.