01.12.2017 | Research | Ausgabe 1/2017 Open Access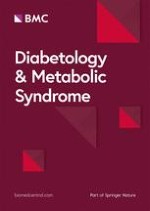 Aliskiren effect on non-alcoholic steatohepatitis in metabolic syndrome
Zeitschrift:
Autoren:

F. N. Ramalho, S. C. Sanches, M. C. Foss, M. J. Augusto, D. M. Silva, A. M. Oliveira, L. N. Ramalho
Abstract
Background
Non-alcoholic steatohepatitis (NASH) is highly associated with metabolic syndrome, a major cause of morbidity in the globalized society. The renin–angiotensin system (RAS) influences hepatic fatty acid metabolism, inflammation and fibrosis. Thus, in the present study, we aimed to evaluate the effect of aliskiren, a direct renin inhibitor, on metabolic syndrome-related NASH.
Methods
C57BL/6 male mice (n = 45) were divided into three groups: controls; animals inoculated with streptozotocin (STZ) (40 mg/kg/day) for 5 days and fed with high fat diet (HFD) for 8 weeks; and animals inoculated with STZ for 5 days, fed with HFD for 8 weeks and treated with aliskiren (100 mg/kg/day) for the final 2 weeks. Glycemic and insulin levels, hepatic lipid profile, histological parameters and inflammatory protein expression were analyzed.
Results
Aliskiren normalized plasma glucose and insulin levels, reduced cholesterol, triglycerides and total fat accumulation in liver and diminished hepatic injury, steatosis and fibrosis. These results could be explained by the ability of aliskiren to block angiotensin-II, lowering oxidative stress and inflammation in liver. Also, it exhibited a beneficial effect in increasing insulin sensitivity.
Conclusion
These findings support the use of aliskiren in the treatment of metabolic syndrome underlying conditions. However, clinical studies are indispensable to test its effectiveness in the treatment of patients with metabolic syndrome.