07.02.2019 | ORIGINAL ARTICLE | Ausgabe 3/2019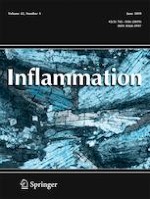 Alleviation of Atopic Dermatitis Lesions by a Benzylideneacetophenone Derivative
via

the MAPK Signaling Pathway
Zeitschrift:
Autoren:

Bongjun Sur, Seungmin Kang, Mijin Kim, Seikwan Oh
Wichtige Hinweise
Publisher's Note
Springer Nature remains neutral with regard to jurisdictional claims in published maps and institutional affiliations.
Abstract
This experiment was conducted to investigate the effects of a benzylideneacetophenone derivative ((2E)-3-(4-hydroxy-3-methoxyphenyl)phenylpro-2-en-l-one (JC3)) on trimellitic anhydride (TMA)–induced atopic dermatitis (AD)–like symptoms in mice. To induce AD, the dorsal skins of mice were treated with 5% TMA on day 0 and both ears were treated with 5% TMA on day 5 and with 2% TMA from day 6 to day 14. JC3 (1, 5, 10 mg/kg, i.p.) was treated once daily from day 9 to day 14 before TMA treatment. Histological analysis was performed and auricular lymph node weights, ear thicknesses, skin water contents, scratching behaviors, and serum immunoglobulin (IgE) and IFN-γ, and interleukin-4 (IL-4) levels in serum and ear tissues were determined. In addition, the anti-AD activity of JC3 was investigated on phorbol 12-myristate 13-acetate (PMA)–stimulated human mast cells (HMC-1 cells) derived from patients. Levels of TNF-α, IL-4, and mitogen-activated protein kinase (MAPK) were investigated after treating cultured cells with JC3. Treating mice with JC3 (10 mg/kg) significantly decreased ear thicknesses, lymph node weights, skin scores, skin water contents, scratching behavior, and IFN-γ, IL-4 cytokine levels, and serum IgE levels. Moreover, treatment with JC3 (10 mg/kg) significantly decreased serum and ear tissues levels of IFN-γ and IL-4 in AD mice. Furthermore, treatment with JC3 at 10 μg/ml reduced TNF-α and IL-4 levels and decreased MAPK phosphorylation in the HMC-1 cells. The results of this study provide a molecular basis for developing new therapeutics for the treatment of various inflammatory diseases, such as, eczema, asthma, and AD.