03.01.2019 | Original Article | Ausgabe 4/2019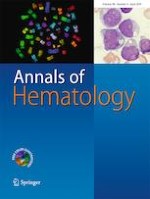 Allogeneic hematopoietic stem cells transplantation improves the survival of intermediate-risk acute myeloid leukemia patients aged less than 60 years
Zeitschrift:
Autoren:

Ying Zhang, Yimin Zhang, Qi Chen, Gusheng Tang, Weiping Zhang, Jianmin Yang, Jianmin Wang, Xiaoxia Hu
Wichtige Hinweise
Electronic supplementary material
Abstract
The prognosis of acute myeloid leukemia (AML) with normal karyotype is further determined by specific genetic alterations. The optimal post-remission therapy (PRT) in younger patients within this group after first complete remission (CR1) remains to be determined. We report a retrospective evaluation of PRT approaches in 223 patients under the age of 60 years old with intermediate-risk AML in CR1. Patients receiving allogenic hematopoietic stem cell transplantation (alloHSCT) obtained improved overall survival (OS) than patients who treated with chemotherapy (5-year 61.6 ± 5.2% versus 41.1 ± 5.3%,
p
 = 0.004). AlloHSCT led to fewer cases of relapse (hazard ratio [HR] 0.14,
p
 < 0.001) and increased the relapse-free survival (RFS, HR 0.45,
p
 < 0.001). With alloHSCT, the outcome of patients who reached negative minimal residual disease after 2 cycles of consolidation could be further improved with an increased OS of 66% and RFS of 61%. Nucleophosmin-1 (NPM1) mutation negative, CCAAT/enhancer binding protein alpha (CEBPA) double mutation negative, and FLT-3 internal tandem duplication negative (NPM1
mut-neg
CEBPA
dm-neg
FLT3-ITD
neg
) patients had a significantly longer RFS with alloHSCT. In conclusion, our results provide additional evidence that alloHSCT is preferential PRT in patients with intermediate-risk AML that are under the age of 60 years old in CR1.