01.12.2017 | Research | Ausgabe 1/2017 Open Access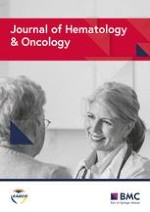 Allogeneic stem cell transplantation in adult patients with acute myeloid leukaemia and 17p abnormalities in first complete remission: a study from the Acute Leukemia Working Party (ALWP) of the European Society for Blood and Marrow Transplantation (EBMT)
Zeitschrift:
Autoren:

Xavier Poiré, Myriam Labopin, Johan Maertens, Ibrahim Yakoub-Agha, Didier Blaise, Norbert Ifrah, Gérard Socié, Tobias Gedde-Dhal, Nicolaas Schaap, Jan J. Cornelissen, Stéphane Vigouroux, Jaime Sanz, Lucienne Michaux, Jordi Esteve, Mohamad Mohty, Arnon Nagler
Wichtige Hinweise
Electronic supplementary material
The online version of this article (doi:
10.​1186/​s13045-017-0393-3
) contains supplementary material, which is available to authorized users.
Abbreviations
-5/5q-
Monosomy 5 or loss of 5q-
Allo-SCT
Allogeneic stem cell transplantation
CR2
Second complete remission
EBMT
European Society of Blood and Marrow Transplantation
GRFS
GvHD-free/relapse-free survival
GvHD
Graft-versus-host disease
Inv(3)
Inversion of chromosome 3
MAC
Myeloablative conditioning
RIC
Reduced-intensity conditioning
Background
Allogeneic stem cell transplantation (allo-SCT) is now a standard approach recommended for patients with high-risk acute myeloid leukaemia (AML) in remission [
1
,
2
]. High-risk AML is mainly defined by the presence of determined poor-risk cytogenetic abnormalities at diagnosis together with specific mutational events [
3
–
6
]. In general, conventional post-remission high-dose chemotherapy is not capable to eradicate the initiating stem cell leukemic clone of high-risk AML, harbouring strong chemoresistance mechanisms [
7
], and only the potent graft-versus-leukaemia arising after allo-SCT may overcome the poor prognosis of these high-risk AML subtypes [
8
]. Indeed, several reports have confirmed the significant advantage of allo-SCT in high-risk AML, especially when performed early in the course of the disease [
9
–
11
]. Among the heterogeneous group of high-risk AML, prognosis can be further stratified based on specific genetic abnormalities, and the potential benefit of allo-SCT differs between these diverse AML subtypes [
12
–
16
]. While, it is still questionable if distinct genetic abnormalities with a known worse outcome like complex karyotype (CK) and monosomal karyotype (MK) AML will get the same benefit from allo-SCT [
17
].
TP53
is located in 17p13 chromosomal region and is one of the major tumour suppressor genes, often inactivated by deletion and/or mutation in many tumours [
18
]. It has been described in 10 to 15% of AML patients, with an increased frequency in elderly patients and secondary AML [
19
].
TP53
inactivation is associated in AML with a significantly lower response to intensive chemotherapy, translating into a poor outcome [
20
]. Although
TP53
mutations/deletions show a high correlation with complex karyotype in AML [
21
–
23
],
TP53
mutations and/or loss have emerged as a strong and independent prognostic marker of very poor outcomes regardless of associated cytogenetic abnormalities [
24
,
25
]. Thus, long-term disease control is observed in less than 5% of the patients harbouring the
TP53
mutations with conventional chemotherapy [
25
,
26
]. Molecular screening for
TP53
mutations is not routinely performed, and loss or disruption of 17p13 (17p abnormalities, abn(17p)) is usually identified by FISH analysis [
27
]. In this context, the potential capability of allo-SCT to overcome the dismal prognosis of abn(17p) AML is of great interest, scarcely explored until now. A first report from Mohr et al. described the outcome of 47 allografted patients and did not show a different outcome compared to non-transplanted patients, raising the hypothesis of a lack of sensitivity of this entity to the potential benefit of graft-versus-leukaemia effect [
28
]. This detrimental effect of abn(17p) on allo-SCT outcomes has been confirmed in another report with an event-free survival (EFS) of only 11% due to a very high incidence of relapse [
17
]. A recent report from Middeke et al. described 201 patients with abn(17p) AML transplanted during the past decade, showing an overall EFS of only 12%, with a slight better outcome among the 84 patients allografted in first complete remission (3-year EFS 18 vs 7%)
p
 < 0.001) [
29
]. The purpose of the current study was to explore the potential role of early-phase allo-SCT in abn(17p) AML in the multicenter, registry context of EBMT, with the aim to identify specific subsets of patients who could benefit from the procedure.
Methods
Data collection and patient selection
The data on patients over 18 years of age with a diagnosis of de novo or secondary AML transplanted with a related or unrelated donor were available from the EBMT registry. The latter is a voluntary working group of more than 450 transplant centres reporting regularly on their transplant activity. Only patients having available cytogenetics and transplanted between 1 January 2000 and 31 December 2013 have been selected. Patients with second allo-SCT have been excluded as well as those receiving a haplo-identical transplantation. Audits are routinely performed to insure the quality of the reported data. All patients provided informed consent on the use of their data in retrospective studies. The Review Board of EBMT approved this study. We identified a dataset of 10,799 patients with 5495 patients displaying an abnormal karyotype. All cytogenetic abnormalities have been carefully reviewed by two physicians (Xavier Poiré and Lucienne Michaux). Most centres report conventional karyotype and a few report also FISH results. Cytogenetic results found in the registry are complete or often partial depending on the reporting center. Based on available data, we kept for further analysis only patients for whom data were sufficient to confirm the presence of abn(17p). Abn(17p) were defined as loss of 17p13 (
TP53
locus) such as monosomy 17, deletion (17p), isochromosome 17q (i(17q)), addition (17p) or other abnormalities that disrupt the 17p13 locus. Only one center reported a patient with
TP53
mutation. Those selected patients have been further categorised as CK, MK, presence of monosomy 7, presence of loss of 5q and/or presence of a inversion of chromosome 3 (inv(3)). CK has been defined as the presence of 3 or more cytogenetic abnormalities. MK has been defined as two or more autosomal monosomies or one autosomal monosomy in combination with at least one structural chromosomal abnormality. A total of 139 patients from 78 centres met the criteria and have been selected for further analysis.
Myeloablative conditioning (MAC) has been defined as a regimen including total body irradiation (TBI) of more than 8 Gy or a busulfan dose of more than 10 mg/kg. Reduced-intensity conditioning (RIC) includes intermediate doses of alkylating agents such as 8–10 mg/kg busulfan, 80–140 mg/m
2
melphalan, 600–1200 mg/m
2
cyclophosphamide or 5–10 mg/kg thiotepa, and/or low-dose TBI (<3 Gy). The following variables have been selected and included in the analysis: year of transplantation, age, gender, status at transplantation, time to diagnosis to complete remission, time to complete remission to allo-SCT, number of induction courses, type of conditioning regimen, in vivo T cell depletion, type of T cell depletion, cytomegalovirus (CMV) status of donor and recipient, donor type, source of stem cells, Karnofsky performance status at transplantation, engraftment, presence of acute and chronic graft-versus-host disease (GvHD), grade of acute GvHD, presence of CK, MK, monosomy 7, loss of 5q and/or inv(3), cause of death. HLA typing was determined at 10 loci (A, B, C, DRB1, DQB1) by high-resolution techniques, although not all the centres report complete data on HLA. All unrelated donors were defined as HLA matched (10/10) or mismatched at 1 locus (9/10). Additional data have been collected on the therapy of relapsing patients when available. HLA data on cord blood (CB) were not captured in this study. Methods and definitions were similar to other studies performed by the Acute Leukemia Working Party of the EBMT [
30
–
32
].
Statistical analysis and endpoint definitions
Endpoints included leukaemia-free survival (LFS), relapse incidence (RI), non-relapse mortality (NRM), overall survival (OS), acute and chronic GVHD and GVHD-free/relapse-free survival (GRFS). All outcomes were measured from the time of stem cell infusion. LFS was defined as survival without relapse; patients alive without relapse were censored at the time of last contact. OS was based on death from any cause. NRM was defined as death without previous relapse. GRFS was defined as survival without grade 3–4 acute GVHD, extensive chronic GVHD, relapse or death. Surviving patients were censored at the time of last contact. The probabilities of OS and LFS were calculated by the Kaplan-Meier test, and those of acute and chronic GVHD, NRM, and relapse by the cumulative incidence estimator to accommodate competing risks. Results are expressed with a 95% confidence interval (CI). For NRM, relapse was the competing risk, and for relapse, the competing risk was NRM. For acute and chronic GVHD, death without the event and relapse were the competing risks.
For all prognostic analyses, continuous variables were categorised and the median was used as a cut-off point. A Cox proportional hazards model was used for multivariate regression. Factors associated with a
p
value less than 0.05 by univariate analysis were included in the model. Results were expressed as hazard ratio (HR) with 95% confidence interval
All tests were two-sided. The type 1 error rate was fixed at 0.05 for determination of factors associated with time to event outcomes. Statistical analyses were performed with SPSS 19 (SPSS Inc./IBM, Armonk, NY) and R 3.0.1 (R Development Core Team, Vienna, Austria) software packages.
Results
Discussion
Conclusions
Allo-SCT arises as the best therapeutic option to improve survival in selected patients harbouring abn(17p) and achieving CR after frontline chemotherapy, especially in the absence of -5/5q-. Nonetheless, clinical benefit of allo-HCT remains very limited, followed by a high relapse incidence. Recognition of a potential graft-versus-leukaemia effect preventing relapse in some patients gives the rationale basis for the development of early chemotherapy-based or cell-based strategies to prevent relapse and therefore to increase the potential benefit of allo-SCT in these patients.
Acknowledgements
Not applicable.
Funding
This retrospective study is supported by the EBMT.
Availability of data and materials
The dataset analysed in the present study is avalaible in the EBMT registry.
Authors' contributions
XP designed the study. XP and LM reviewed the cytogenetic data. XP, ML, JE and AN analysed the data. XP wrote the paper. JE, MM and AN reviewed the paper. JM, IYA, DB, NI, GS, TGD, NS, JC, SV and JS provide the data. JM, IYA, DB, NI, GS, TGD, NS, JC, SV and JS approved the manuscript. All authors read and approved the final manuscript.
Competing interests
The authors declare that they have no competing interests.
Consent for publication
All patients included in the EBMT registry database have previously consented to be part anonymously to the registry.
Ethics approval and consent to participate
All retrospective studies performed by the EBMT are centrally approved by the EBMT board.
Open Access
This article is distributed under the terms of the Creative Commons Attribution 4.0 International License (
http://​creativecommons.​org/​licenses/​by/​4.​0/​
), which permits unrestricted use, distribution, and reproduction in any medium, provided you give appropriate credit to the original author(s) and the source, provide a link to the Creative Commons license, and indicate if changes were made. The Creative Commons Public Domain Dedication waiver (
http://​creativecommons.​org/​publicdomain/​zero/​1.​0/​
) applies to the data made available in this article, unless otherwise stated.