01.11.2010 | Ausgabe 6/2010 Open Access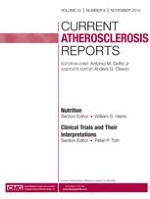 Alpha-Linolenic Acid: Is It Essential to Cardiovascular Health?
Zeitschrift:
Autoren:

Johanna M. Geleijnse, Janette de Goede, Ingeborg A. Brouwer
Abstract
There is a large body of scientific evidence that has been confirmed in randomized controlled trials indicating a cardioprotective effect for omega-3 fatty acids from fish. For alpha-linolenic acid (ALA), which is the omega-3 fatty acid from plants, the relation to cardiovascular health is less clear. We reviewed the recent literature on dietary ALA intake, ALA tissue concentrations, and cardiovascular health in humans. Short-term trials (6–12 weeks) in generally healthy participants mostly showed no or inconsistent effects of ALA intake (1.2–3.6 g/d) on blood lipids, low-density lipoprotein oxidation, lipoprotein(a), and apolipoproteins A-I and B. Studies of ALA in relation to inflammatory markers and glucose metabolism yielded conflicting results. With regard to clinical cardiovascular outcomes, there is observational evidence for a protective effect against nonfatal myocardial infarction. However, no protective associations were observed between ALA status and risk of heart failure, atrial fibrillation, and sudden death. Findings from long-term trials of ALA supplementation are awaited to answer the question whether food-based or higher doses of ALA could be important for cardiovascular health in cardiac patients and the general population.