01.12.2017 | Research article | Ausgabe 1/2017 Open Access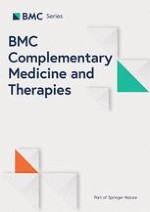 Alpinia oxyphylla Miq. fruit extract activates IGFR-PI3K/Akt signaling to induce Schwann cell proliferation and sciatic nerve regeneration
Zeitschrift:
Autoren:

Yung-Ming Chang, Hen-Hong Chang, Chin-Chuan Tsai, Hung-Jen Lin, Tsung-Jung Ho, Chi-Xin Ye, Ping-Ling Chiu, Yueh-Sheng Chen, Ray-Jade Chen, Chih-Yang Huang, Chien-Chung Lin
Abstract
Background
It is known that the medicinal herb Alpinia oxyphylla Miq. is widely used as a remedy for diarrhea as well as the symptoms accompanying hypertension and cerebrovascular disorders. Moreover, it has also been reported that Alpinia oxyphylla Miq. has beneficial effects on anti-senescence and neuro-protection. This study focuses on the molecular mechanisms by which the Alpinia oxyphylla Miq. fruits promote neuron regeneration.
Methods
A piece of silicone rubber was guided across a 15 mm gap in the sciatic nerve of a rat. This nerve gap was then filled with various doses of Alpinia oxyphylla Miq. fruits to assess their regenerative effect on damaged nerves. Further, we investigated the role of Alpinia oxyphylla Miq. fruits in RSC96 Schwann cell proliferation.
Results
Our current results showed that treatment with the extract of Alpinia oxyphylla Miq. fruits triggers the phosphorylated insulin-like growth factor-1 receptor- phosphatidylinositol 3-kinase/serine-threonine kinase pathway, and up-regulated the proliferating cell nuclear antigen in a dose-dependent manner. Cell cycle analysis on RSC96 Schwann cells showed that, after exposure to Alpinia oxyphylla Miq. fruit extract, the transition from the first gap phase to the synthesis phase occurs in 12–18 h. The expression of the cell cycle regulatory proteins cyclin D1, cyclin E and cyclin A increased in a dose-dependent manner. Transfection with a small interfering RNA blocked the expression of phosphatidylinositol 3-kinase and induced down-regulation both on the mRNA and protein levels, which resulted in a reduction of the expression of the survival factor B-cell lymphoma 2.
Conclusion
We provide positive results that demonstrate that Alpinia oxyphylla Miq. fruits facilitate the survival and proliferation of RSC96 cells via insulin-like growth factor-1 signaling.