01.12.2017 | Research | Ausgabe 1/2017 Open Access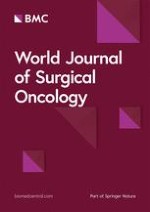 ALPPS (associating liver partition and portal vein ligation for staged hepatectomy) does not affect proliferation, apoptosis, or angiogenesis as compared to standard liver resection for colorectal liver metastases
Zeitschrift:
Autoren:

Katharina Joechle, Christian Moser, Petra Ruemmele, Katharina M. Schmidt, Jens M. Werner, Edward K. Geissler, Hans J. Schlitt, Sven A. Lang
Abstract
Background
ALPPS (associating liver partition and portal vein ligation for staged hepatectomy) is a novel two-stage strategy to induce rapid hypertrophy of the future liver remnant (FLR) when patients are in danger of postoperative liver failure due to insufficient FLR. However, the effects of ALPPS on colorectal liver metastases (CRLM) are not clear so far. The aim of our study was to determine whether ALPPS induces proliferation, apoptosis, or vascularization compared to standard (one-stage) liver resection.
Methods
Six patients who underwent ALPPS were matched with 12 patients undergoing standard liver resection regarding characteristics of the metastases (size, number), time of appearance (syn-/metachronous), preoperative chemotherapy, primary tumor (localization, TNM stage, grading), and patient variables (gender, age). The largest resected metastasis was used for the analyses. Tissue was stained for tumor cell proliferation (Ki67), apoptosis (TUNEL, caspase-3), vascularization (CD31), and pericytes (αSMA).
Results
Vascularization (CD31;
p
 = 0.149), proliferation (Mib-1;
p
 = 0.244), and αSMA expression (
p
 = 0.205) did not significantly differ between the two groups, although a trend towards less proliferation and αSMA expression was observed in patients undergoing ALPPS. Concerning apoptosis, caspase-3 staining showed significantly fewer apoptotic cells upon ALPPS (
p <
 0.0001), but this was not confirmed by TUNEL staining (
p =
 0.7344).
Conclusions
ALPPS does not induce proliferation, apoptosis, or vascularization of CRLM when compared to standard liver resection.