01.12.2017 | Research article | Ausgabe 1/2017 Open Access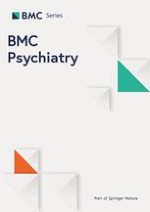 Alterations of hair cortisol and dehydroepiandrosterone in mother-infant-dyads with maternal childhood maltreatment
Zeitschrift:
Autoren:

K. Schury, A. M. Koenig, D. Isele, A. L. Hulbert, S. Krause, M. Umlauft, S. Kolassa, U. Ziegenhain, A. Karabatsiakis, F. Reister, H. Guendel, J. M. Fegert, I.-T. Kolassa
Wichtige Hinweise
Electronic supplementary material
The online version of this article (doi:
10.​1186/​s12888-017-1367-2
) contains supplementary material, which is available to authorized users.
Abbreviations
ACTH
Adrenocorticotropic hormone
AIC
Akaike's Information Criterion
CRH
Corticotropin-releasing hormone
CTQ
Childhood Trauma Questionnaire
HPA axis
Hypothalamic-pituitary-adrenal axis
MACE
Maltreatment and Abuse Chronology of Exposure
PSS4
Perceived Stress Scale, 4-item version
PTSD
Posttraumatic stress disorder
Background
Methods
Results
A total of 21 (22.34%) mothers reported at least low to moderate levels of emotional abuse, 11 (11.70%) physical abuse, 15 (15.96%) sexual abuse, 44 (46.81%) emotional neglect, and 11 (11.70%) physical neglect in childhood according to cut-off scores described for the CTQ by Bernstein et al. [
49
]. CTQ sum scores ranged from 25 to 103 with a mean of 36.29 (
SD =
12.96). Descriptive data on cortisol and DHEA concentrations in hair of women during pregnancy and their newborns, maternal exposure to childhood maltreatment, as well as medical and psychological data are reported in Table
1
.
Cortisol and DHEA levels were not significantly correlated with each other in women (Kendall's
τ
= 0.04,
p
= .53) or newborns (Kendall's
τ
= 0.13,
p
= .33). Hair DHEA concentrations in hair of mothers were significantly correlated with DHEA levels in newborn's hair (Kendall's
τ
= 0.30,
p
= .003). Maternal and newborns' hair cortisol concentrations were not significantly correlated (Kendall's
τ
= 0.12,
p
= .25).
Association of CM with cortisol and DHEA levels in the last trimester of pregnancy measured in maternal hair
A regression model with CM as an independent variable and
hair cortisol
as a dependent variable without further covariates minimized the AIC. No significant association of CM on hair cortisol was obtained (see Table
2
).
Table 2
Summary of heteroscedastic regression analyses for variables predicting cortisol and DHEA in hair samples of mothers and their newborns
Maternal hair data

Cortisol concentrations (

N

= 93

a

)

 Childhood maltreatment (CTQ sum score)

0.12

0.15

0.72

.471

R

2

= .02,

F

(1, 91) = 1.08,

p

= .302

DHEA concentrations (

N

= 93

†

)

 Childhood maltreatment (CTQ sum score)

0.28

0.08

3.25

.002**

 Age

0.51

0.19

2.56

.012*

 Perceived stress (PSS4)

-0.58

0.37

-1.41

.16

 Hair batch

2.48

2.10

1.29

.20

R

2

= .25,

F

(4, 89) = 6.91,

p

< .001**

Newborns' hair data

Cortisol concentrations (

N

= 30)

 Childhood maltreatment (CTQ sum score)

2.23

1.69

1.34

.186

 Maternal age

−5.12

3.88

−1.33

.190

R

2

= .22,

F

(2, 27) = 3.44,

p

= .047

DHEA concentrations (

N

= 30)

 Childhood maltreatment (CTQ sum score)

0.04

0.02

1.89

.070 #

R

2

= .17,

F

(1, 28) = 4.79,

p

= .037*
We observed a positive association of CM (CTQ sum score) and hair DHEA concentrations (
b
= 0.12;
p
= .01) controlling for batch effects in which the hair samples were analyzed (
b
= 3.49;
p
= .01). All variables explained 20% of the variance in DHEA (
F
(2, 90) = 11.66,
p
< .001). This association remained significant after controlling for maternal age and perceived stress as covariates (chosen by the AIC scores), as well as the hair batch in heteroscedastic regression (see Table
2
). The full model explained 25% of the variation in hair DHEA (
F
(4, 89) = 6.91,
p
< .001). Results are illustrated in Fig.
1
.
×
Association of maternal CM on cortisol and DHEA levels measured in the newborn's hair
Maternal CM was not significantly associated with prenatal cortisol levels in newborns' hair (
b
= 2.42,
p
= .18). Including maternal age as covariate minimized the AIC. Similarly, no significant effect of the CTQ sum score on prenatal cortisol in hair of newborns was found when controlling for maternal age (see Table
2
).
A main effect model of maternal CM (CTQ sum score) as an independent variable for prenatal DHEA levels measured in hair of the newborns as a dependent variable without further covariates was chosen based on the AIC for the analyses. Maternal CM was positively associated with prenatal DHEA levels in newborns, but as a non-significant trend (
b
= .04;
p
= .07). 17% of the variance in DHEA concentrations was explained by maternal CM (
F
(1, 28) = 4.79;
p
= .04). Results are shown in Table
2
and illustrated in Additional file
4
.
Discussion
Implications for research and conclusion
Results of this study revealed an association of increasing cumulative DHEA, but not cortisol levels in maternal hair with rising number of CM experiences. This might reflect long-term alterations in the HPA axis in response to maltreatment experiences in childhood, which extend into pregnancy and highlights the importance to investigate DHEA in addition to cortisol. With due caution, our data also provide some support for the hypothesis that CM may influence the offspring's prenatal HPA axis, as we observed a positive association of maternal CM and elevated DHEA concentrations in the newborns' hair, but as a non-significant trend.
Measuring cumulative cortisol and DHEA concentrations in mothers and their newborns shortly after parturition seems promising for the investigation of prenatal biological effects of maternal trauma history on her offspring's neuroendocrine system, without the confounding effect of parental behavior.
Further studies in larger (high-risk) samples are needed and would allow further analyses (e.g., taking ongoing life circumstances, time between CM and pregnancy, as well as the specific effects of different types of CM into account), in order to better understand the underlying biological mechanisms in the interplay between CM and a potentially altered HPA axis activity. Furthermore, longitudinal studies should investigate whether altered levels of DHEA in late gestation are related to altered patterns of HPA axis activity in childhood and adulthood. Pregnancy is associated with significant physiological alterations of HPA axis functioning and the biological function as well as implications of elevated DHEA in non-pregnant individuals cannot easily be transferred into the third trimester of pregnancy. Thus, long-term effects of increased DHEA levels in late gestation on health outcomes in the mothers and their offspring needs to be addressed in prospective studies and the investigation of hair DHEA levels in non-pregnant women with a history of CM seems warranted.
Acknowledgements
We thank Sarah Wilker for comments on an earlier version of the manuscript and Traudl Hiller (medical technical assistant) for support in data collection.
Availability of data and materials
The datasets generated and/or analyzed during the current study are not publicly available due to them containing information that could compromise research participant privacy/consent but are available from the corresponding author on reasonable request in anonymized form.
Funding
Katharina Schury received a scholarship from the German National Academic Foundation (Studienstiftung des deutschen Volkes). Alexandra Koenig was supported by a scholarship of the Konrad Adenauer Foundation. The work of Maria Umlauft was supported by the German Research Foundation project DFG-PA 2409/3–1. The funding bodies neither influenced the design of the study, nor collection, analysis, and interpretation of data, and did not affect writing of the manuscript. Data acquisition was funded by university resources of I.-T. Kolassa. The analysis of DHEA and cortisol in hair were funded by university resources of I.-T. Kolassa and J. M. Fegert.
Authors' contributions
KS and ITK with support of UZ, HG, AK and JMF were responsible for the conception and design of the study. Acquisition of data was conducted by KS, DI, ALH, FR, and SKr. KS, and MU analyzed and interpreted the data together with AMK, SKo, and ITK. KS was the major contributor in writing the manuscript with support of AMK. KS, DI, ALH, MU, AMK, SK, UZ, AK, FR, HG, JMF and ITK critically revised the manuscript for important intellectual content. All authors approved the final version of the manuscript and agreed to be accountable for all aspects of the work in ensuring that questions related to the accuracy or integrity of any part of the work are appropriately investigated and resolved.
Authors' information
Not applicable.
Competing interests
The authors declare that they have no competing interests.
Consent for publication
Not applicable.
Ethics approval and consent to participate
All study procedures are in accordance with the Declaration of Helsinki and were approved by the local ethical committee of Ulm University (reference number 341/11). All participants provided written informed consent before participation of themselves and their children.
Publisher's Note
Springer Nature remains neutral with regard to jurisdictional claims in published maps and institutional affiliations.
Open Access
This article is distributed under the terms of the Creative Commons Attribution 4.0 International License (
http://​creativecommons.​org/​licenses/​by/​4.​0/​
), which permits unrestricted use, distribution, and reproduction in any medium, provided you give appropriate credit to the original author(s) and the source, provide a link to the Creative Commons license, and indicate if changes were made. The Creative Commons Public Domain Dedication waiver (
http://​creativecommons.​org/​publicdomain/​zero/​1.​0/​
) applies to the data made available in this article, unless otherwise stated.