10.10.2017 | Original Article | Ausgabe 1/2018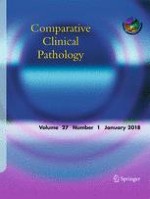 Alterations of non-esterified fatty acids, β-hydroxybutyric acid, urea, and bilirubin traits in clinical endometritis cows following treatment
Zeitschrift:
Autor:

Mohsen Eslami
Abstract
The aim of the present study was to evaluate the relationship between bovine metabolic parameters and severity of clinical endometritis and the likelihood of recovery from endometritis following PGF2α therapy. Clinical endometritis was diagnosed by ultrasonographic examination from 26 to 32 days postpartum (day 0 of experiment) and on presence of uterine discharge. The severity of endometritis was classified on a 3-point scale. Those cows with a corpus luteum (
n
= 113), received PGF2α (LUTALYSE, Pfizer, Australia) on day 0. Serum non-esterified fatty acids (NEFA), β-hydroxybutyric acid (BHBA), urea, and direct and total bilirubin concentrations of endometritis cows were measured on days 0, 7, and 14 of the experiment. Clinical recovery was evaluated on day 14. Recovered (RC) cows had lower NEFA values than unrecovered (URC) ones irrespective of the grade at days 7 and 14 (
P
< 0.02). The highest NEFA levels for all grades of the RC cows were observed on day 0. After treatment, the NEFA values of the RC cows were lower for all grades at days 7 (27.10 ± 2.41, 27.31 ± 0.81 and 22.32 ± 2.08 mg/dL, respectively;
P
= 0.01) and 14 (14.47 ± 1.99, 10.52 ± 0.22, and 15.32 ± 1.39 mg/dL, respectively;
P
< 0.02). Amounts of NEFA in URC cows increased from day 0 to day 7 for all grades of endometritis (
P
< 0.02). Other metabolites did not show significant relation (
P
> 0.05). NEFA can be considered a key metabolite for following the response to PGF2α therapy of cows having clinical endometritis.