01.12.2017 | Research | Ausgabe 1/2017 Open Access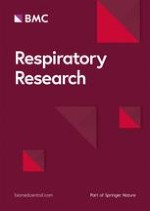 Altered mTOR and Beclin-1 mediated autophagic activation during right ventricular remodeling in monocrotaline-induced pulmonary hypertension
Zeitschrift:
Autoren:

Yan Deng, Weifeng Wu, Shenglan Guo, Yuming Chen, Chang Liu, Xingcui Gao, Bin Wei
Abstract
Background
Right ventricular structure and function is a major predictor of outcomes in pulmonary hypertension (PH), yet the underlying mechanisms remain poorly understood. Growing evidence suggests the importance of autophagy in cardiac remodeling; however, its dynamics in the process of right ventricle(RV) remodeling in PH has not been fully explored. We sought to study the time course of cardiomyocyte autophagy in the RV in PH and determine whether mammalian target of rapamycin (mTOR) and Beclin-1 hypoxia-related pro-autophagic pathways are underlying mechanisms.
Methods
Rats were studied at 2, 4, and 6 weeks after subcutaneous injection of 60 mg/kg monocrotaline (MCT) (MCT-2 W, 4 W, 6 W) or vehicle (CON-2 W, 4 W, 6 W). Cardiac hemodynamics and RV function were assessed in rats. Autophagy structures and markers were assessed using transmission electron microscope, RT-
q
PCR, immunohistochemistry staining, and western blot analyses. Western blot was also used to quantify the expression of mTOR and Beclin-1 mediated pro-autophagy signalings in the RV.
Results
Two weeks after MCT injection, pulmonary artery systolic pressure increased and mild RV hypertrophy without RV dilation was observed. RV enlargement presented at 4 weeks with moderately decreased function, whereas typical characteristics of RV decompensation and failure occurred at 6 weeks thus demonstrating the progression of RV remodeling in the MCT model. A higher LC3 (microtubule- associated protein light chain 3) II/I ratio, upregulated LC3 mRNA and protein levels, as well as accumulation of autophagosomes in RV of MCT rats indicated autophagy induction. Autophagy activation was coincident with increased pulmonary artery systolic pressure. Pro-autophagy signaling pathways were activated in a RV remodeling stage-dependent manner since phospho-AMPK (adenosine monophosphate-activated protein kinase)-α were primarily upregulated and phospho-mTOR suppressed in the RV at 2 and 4 weeks post-MCT injection, whearas, BNIP3 (Bcl2-interacting protein 3) and beclin-1 expression were relatively low during these stages, they were significantly upregulated after 6 weeks in this model.
Conclusions
Our findings provide evidence of sustained activation of autophagy in RV remodeling of MCT induced PH model, while pro-autophagic signaling pathways varied depending on the phase.