01.12.2015 | Research article | Ausgabe 1/2015 Open Access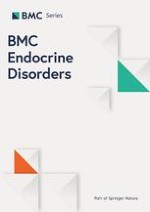 Altered Platelets' morphological parameters in children with type 1 diabetes – a case-control study
Zeitschrift:
Autoren:

Beata Malachowska, Bartlomiej Tomasik, Agnieszka Szadkowska, Anna Baranowska-Jazwiecka, Olga Wegner, Wojciech Mlynarski, Wojciech Fendler
Wichtige Hinweise
Competing interest
The authors declare that they have no competing interest.
Authors' contributions
BM, BT, ABJ, OW and AS collected the data. BM and BT participated in study design and drafted the manuscript. BM performed data analysis. WF conceived of the study and together with WM participated in its design and coordination and prepared the final version of the manuscript. All authors read and approved the final manuscript.
Abstract
Background
Platelet hyperreactivity is a factor which contributes towards increased risk of cardiovascular events in adults with type 2 diabetes (T2DM). However, little is known about platelets' disturbances among children with type 1 diabetes (T1DM). The aim of the study was to investigate whether platelets' morphology or function are altered in children with type 1 diabetes, potentially predisposing them to cardiovascular events in the future.
Methods
The study group consisted of 389 children with T1DM during the 2008–2010 period. Patients with acute diabetes complications and ongoing infections were excluded from the study. An equinumerous (N = 389), age and sex-matched control group was assembled from children undergoing routine, minor surgical procedures in the same hospital. Platelet: count (PLT), mean volume (MPV), distribution width (PDW) and platelet large cell ratio (P-LCR) as well as HbA1c levels were measured. For statistical analysis we used Chi-square tests, the student's t-test, one-way analysis of variance (ANOVA), the Pearson's correlation coefficient and linear regression models in order to adjust for covariates.
Results
MPV, PDW and P-LCR were significantly higher among children with diabetes in comparison with the control group (MPV 10.47+/−0.85 fL vs 10.23+/−0.94 fL, p = 0.0007; PDW 12.09+/−1.80% vs 11.66+/−1.90%, p = 0.0032; P-LCR 28.21+/−6.15% vs 26.29+/−6.38%, p < 0.0001). PLT however, were shown to be similar (263.55+/−60.04 vs 268.77+/−65.78 103/μl; p = 0.5637). In both cases and controls age was inversely correlated with platelet count (for study group: r = −0.30, p < 0.0001; for control group: r = −0.34, p < 0.0001), positively correlated with MPVs (r = 0.20, p < 0.0001; r = 0.26, p < 0.0001), PDW (r = 0.25, p < 0.0001 and r = 0.24, p < 0.0001) and P-LCR (r = 0.26, p < 0.0001; r = 0.26, p < 0.0001). After adjustment for confounding factors, higher platelet counts were associated with poorer metabolic control (beta = 0.20; 0.0001).
Conclusions
Platelets of paediatric patients with T1DM show morphological evidence of hyperreactivity (higher MPV, PDW and P-LCR), while poorer metabolic control increases their number potentially predisposing the patients to future cardiovascular events.