04.03.2019 | Short Communication | Ausgabe 1/2019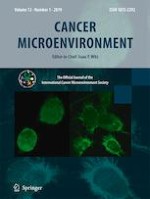 Altered T Cell Migratory Capacity in the Progression from Barrett Oesophagus to Oesophageal Adenocarcinoma
Zeitschrift:
Autoren:

Maria E. Kavanagh, Melissa J. Conroy, Niamh E. Clarke, Niamh T. Gilmartin, Ronan Feighery, Finbar MacCarthy, Dermot O'Toole, Narayanasamy Ravi, John V. Reynolds, Jacintha O' Sullivan, Joanne Lysaght
Wichtige Hinweise
Maria E. Kavanagh and Melissa J. Conroy contributed equally to this work.
Publisher's Note
Springer Nature remains neutral with regard to jurisdictional claims in published maps and institutional affiliations.
Abstract
Oesophageal adenocarcinoma (OAC) is an inflammation-driven cancer with poor prognosis and incidence is increasing rapidly. OAC arises from gastro-oesophageal reflux disease (GORD) and reflux-induced Barrett oesophagus (BO). The role of T cells in this disease progression is not yet fully understood. We have previously demonstrated higher proportions of pro-tumour Th2 cells in BO tissue, implicating them in its pathogenesis. While a Th2 immune profile is thought to underlie the metaplastic transformation in BO and promote OAC development, our studies suggest that the abundance of Th2 cells in BO tissue is likely to occur through altered T cell recruitment. This study examined the chemokine networks governing T cell migration to oesophageal tissue during disease progression. Here, we have identified that circulating T cells in OAC patients, exhibit impaired migratory capacity with decreased frequencies of Th1-associated CXCR3+ and Th17-associated CCR6+ cells. Despite the abundance of Th1 chemokines RANTES (CCL5) and MIP-1α (CCL3) in OAC tumour, enrichments of intratumoural T cells expressing corresponding receptors were not observed. These data suggest that T cell infiltration of oesophageal tissue is compromised in OAC and suggest that future therapies targeting T cell trafficking should occur at the pre-neoplastic stage. This is supported by the finding that antagonism of Th2-biased CCR4 significantly reduces T cell migration in BO but not OAC patients. Since we have previously reported a predominant Th2 immune profile in BO, we suggest that chemokine receptor antagonism may be a viable treatment option to alleviate Th2-predominance in BO and interrupt progression to OAC.