01.12.2018 | Research article | Ausgabe 1/2018 Open Access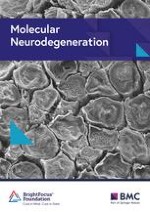 Alzheimer-associated cerebrospinal fluid fragments of neurogranin are generated by Calpain-1 and prolyl endopeptidase
Zeitschrift:
Autoren:

Bruno Becker, Faisal Hayat Nazir, Gunnar Brinkmalm, Elena Camporesi, Hlin Kvartsberg, Erik Portelius, Martina Boström, Marie Kalm, Kina Höglund, Maria Olsson, Henrik Zetterberg, Kaj Blennow
Wichtige Hinweise
Electronic supplementary material
Abstract
Background
Neurogranin (Ng) is a small 7.6 kDa postsynaptic protein that has been detected at elevated concentrations in cerebrospinal fluid (CSF) of patients with Alzheimer's disease (AD), both as a full-length molecule and as fragments from its C-terminal half. Ng is involved in postsynaptic calcium (Ca) signal transduction and memory formation via binding to calmodulin in a Ca-dependent manner. The mechanism of Ng secretion from neurons to CSF is currently unknown, but enzymatic cleavage of Ng may be of relevance. Therefore, the aim of the study was to identify the enzymes responsible for the cleavage of Ng, yielding the Ng fragment pattern of C-terminal fragments detectable and increased in CSF of AD patients.
Methods
Fluorigenic quenched FRET probes containing sequences of Ng were utilized to identify Ng cleaving activities among enzymes known to have increased activity in AD and in chromatographically fractionated mouse brain extracts.
Results
Human Calpain-1 and prolyl endopeptidase were identified as the candidate enzymes involved in the formation of endogenous Ng peptides present in CSF, cleaving mainly in the central region of Ng, and between amino acids 75_76 in the Ng sequence, respectively. The cleavage by Calpain-1 affects the IQ domain of Ng, which may deactivate or change the function of Ng in Ca2+/calmodulin -dependent signaling for synaptic plasticity. While shorter Ng fragments were readily cleaved in vitro by prolyl endopeptidase, the efficiency of cleavage on larger Ng fragments was much lower.
Conclusions
Calpain-1 and prolyl endopeptidase cleave Ng in the IQ domain and near the C-terminus, respectively, yielding specific fragments of Ng in CSF. These fragments may give clues to the roles of increased activities of these enzymes in the pathophysiology of AD, and provide possible targets for pharmacologic intervention.