10.11.2017 | Case Report | Ausgabe 2/2018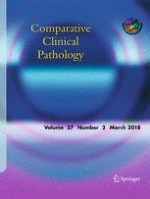 Amblyomma ovale

parasitizing a human
Zeitschrift:
Autoren:

Antonise Mariely Jaguezeski, Márcia Sangaletti Lavina, Veridiane Orsolin, Aleksandro Schafer da Silva
Abstract
The present study aims to report a case study regarding the parasitism in humans due to
Amblyomma ovale
in the west side of Santa Catarina, southern Brazil. The parasitized individual noticed the ectoparasite after visiting an area of forest and riverbank in that region, site also visited by cattle. The tick was then removed and placed in a 70% alcohol tube. In laboratory, it was visualized in stereomicroscope and identified according to the appropriate dichotomous key of the genus. The collected mite was an adult female, identified as
A. ovale.