27.04.2019 | Original Article | Ausgabe 4/2019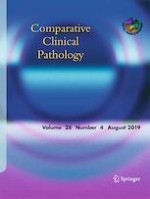 Ameliorative effects of alpha-lipoic acid and imidocarb dipropionate on clinico-haematological changes induced by experimental
Babesia canis vogeli

infection in dogs
Zeitschrift:
Autoren:

Ajoke Modupeoluwa Ehimiyein, Shehu Usman Abdullahi, Joseph Olusegun Ayo, Oluyinka Oluseyi Okubanjo, Emmanuel Oludare Balogun
Wichtige Hinweise
Publisher's note
Springer Nature remains neutral with regard to jurisdictional claims in published maps and institutional affiliations.
Abstract
The aim of the study was to evaluate the effects of imidocarb dipropionate and alpha-lipoic acid (ALA) on clinico-haematological parameters of dogs inoculated with
Babesia canis vogeli
. Twenty-one dogs were divided into uninfected untreated (
n
 = 4), infected untreated (
n
 = 6), infected and treated with imidocarb dipropionate (6 mg/kg subcutaneously) alone (
n
 = 3), infected and treated with ALA (15 mg/kg orally) alone (
n
 = 5), and infected and treated with both imidocarb dipropionate and ALA (
n
 = 3). Molecularly identified
Babesia canis vogeli
was experimentally inoculated into the infected groups, and treatment commenced at day 12 post-inoculation (PI). Behavioural events and blood samples were obtained and analysed before inoculation, at days 11 PI, 8, 15, and 43 post-treatment (PT). Behavioural events including vocalisation, licking/grooming, and tail wagging decreased post-inoculation. Treatments with imidocarb and ALA alleviated the clinical manifestations of dry muzzle, ocular discharge, and splenomegaly. At days 15 and 43 PT, imidocarb + ALA recorded the highest packed cell volume (41.13 ± 2.96%; 47.40 ± 3.72%) and erythrocyte count (6.10 ± 0.44 × 10
12
/L; 6.99 ± 0.56 × 10
12
/L) compared to other infected groups. The haemoglobin concentration at day 15 PT (13.80 ± 0.91 g/dL) increased in the imidocarb + ALA group. Thrombocytopenia was recorded in all the infected groups at day 11 PI. In conclusion, co-administration of imidocarb with ALA acted synergistically and also ameliorated the clinico-haematological changes in experimental canine babesiosis, and the agent may be a promising and potent drug in the management of canine babesiosis.