01.12.2016 | Case report | Ausgabe 1/2016 Open Access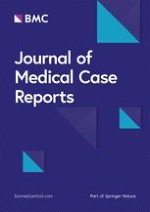 Ameloblastoma during pregnancy: a case report
Zeitschrift:
Autoren:

Helbert Eustáquio Cardoso da Silva, Erika do Socorro Ramos Costa, Antônio Carlos Quintão Medeiros, Paulo Sérgio dos Santos Pereira
Abstract
Background
Ameloblastomas are rarely found in pregnant women, with only two cases reported in the scientific literature. We report the first case of ameloblastoma in a pregnant woman in Brazil.
Case presentation
A 27-year-old white woman, 12-weeks pregnant, presented with a large mass in her right posterior mandible. Panoramic radiography revealed a lesion involving her mandibular right first molar with displacement of her mandibular right third molar and impairment of the mandibular bone base. The results of an incisional biopsy led to a diagnosis of acanthomatous ameloblastoma. We fixed Erich arch bars to both dental arches and performed an en-bloc resection surgery under general anesthesia for tumor removal. She was then treated by maxillomandibular rigid fixation with the installation of a 2.7 mm non-locking reconstruction plate. So far, she has presented no motor deficits, chewing difficulties, or relevant asymmetries. The tumor showed no recurrence after the first year (pregnancy period) and post-surgery radiographic follow-up revealed a reduction in the surgical area after osseous growth in the margins of the lesion. Although she displayed no systemic comorbidities that affected pregnancy, the fetus was born with alobar holoprosencephaly.
Conclusions
The possible influence of pregnancy hormones on the growth and development of tumors in general and ameloblastoma in particular, is still not explained in the literature. However, evidence reveals that the issue should be further studied. Although en-bloc resection surgery is considered a radical method of treatment, it is an effective alternative in ameloblastoma removal, presenting low rates of recurrence.