01.12.2018 | Research | Ausgabe 1/2018 Open Access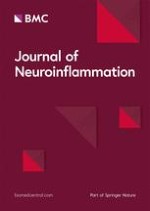 Ammoxetine attenuates diabetic neuropathic pain through inhibiting microglial activation and neuroinflammation in the spinal cord
Zeitschrift:
Autoren:

Ting-Ting Zhang, Rui Xue, Shi-Yong Fan, Qiong-Yin Fan, Lei An, Juan Li, Lei Zhu, Yu-Hua Ran, Li-Ming Zhang, Bo-Hua Zhong, Yun-Feng Li, Cai-Ying Ye, You-Zhi Zhang
Wichtige Hinweise
Ting-Ting Zhang, Rui Xue, Cai-Ying Ye and You-Zhi Zhang contributed equally to this work.
Abbreviations
CCI
Chronic constriction injury
DNP
Diabetic neuropathic pain
ERK
Extracellular signal-regulated kinase
MAOIs
Monoamine oxidase inhibitors
MAPKs
Mitogen-activated protein kinases
RVM
Rostral ventromedial medullary
SNRIs
Serotonin and norepinephrine reuptake inhibitors
TCAs
Tricyclic antidepressants
Background
Methods
Animals
Rats were purchased from the Beijing Vital River Laboratory Animal Technology, Co., Ltd. (Beijing, China, permit number SCXK(JING) 2012-0001). All animals are group-housed under a 12-h light/dark cycle at room temperature (23 ± 1 °C) for 3–6 days. Animals had free access to food and water at all times before the experiments. The tests were conducted in the light cycle. The procedures on animal experimentation were approved by the Animal Care Committee of the Chinese People's Liberation Army General Hospital (Beijing, China). The maintenance and handling of the rats were consistent with the guidelines of the National Institutes of Health, and adequate measures were taken to minimize animal discomfort.
Drugs
Duloxetine hydrochloride was purchased from Shanghai Wandai Pharmaceutical Corporation, Ltd. (Shanghai, China). Ammoxetine was synthesized at our institute (Beijing Institute of Pharmacology and Toxicology). Streptozocin (STZ) was purchased from Sigma-Aldrich (St. Louis, MO, USA). Ammoxetine and duloxetine were dissolved in distilled water. Streptozocin was dissolved in 0.1 M citrate buffer (pH 4.2). Ammoxetine and duloxetine were administrated orally (p.o.) at a concentration of 1.0 ml/kg. The doses for each drug used in the experiment are discussed below.
Induction of diabetic neuropathic pain and experimental protocols
Rats weighing 250–280 g were fasted overnight and then intraperitoneally (i.p.) injected with a single 60 mg/kg dose of freshly prepared STZ. The age-matched rats in the control group received equal volumes of the 0.1 M citrate buffer (pH 4.2). One week after the STZ injection, diabetes was confirmed by determining blood glucose levels in blood samples collected from tail veins using glucometer IME-DC (Bayer, Leverkusen, Germany). Rats with blood glucose levels ≥ 16 mM were considered diabetic and selected for the experiments. Diabetic rats with neuropathic pain were defined as the 50% PWT < 5 g measured by von Frey hair test [
28
].
Drugs were administrated 2 weeks after the STZ injection. Diabetic rats were treated with ammoxetine (2.5, 5 and 10 mg/kg, p.o.), duloxetine (10 mg/kg, p.o.), or distilled water once a day for 4 weeks to evaluate the efficacy of chronic ammoxetine treatment. Age-matched control rats were treated with distilled water. The mechanical allodynia thresholds were measured once a week until the end of the experiments. At the 2nd and 6th weeks after STZ injection, blood glucose levels were measured to confirm the maintenance of hyperglycemia in STZ-diabetic rats.
Mechanical allodynia (von Frey hair test)
The mechanical allodynia of diabetic rats was assessed on the left hind paws using a method reported by Chaplan SR [
29
]. Briefly, rats were placed in test cages with a metal-mesh floor and were allowed to habituate for at least 30 min. Von Frey filaments (Touch-Test® Sensory Evaluators, NC12775-99, North Coast Medical Inc., San Jose, CA, USA) of 0.6, 1.0, 1.4, 2.0, 4.0, 6.0, 8.0, 10.0, 15.0, and 26.0 g were applied to the plantar surface of the left hind paw. A positive or negative response was defined as a paw withdrawal response from the pressure of a filament or the lack of a response within 6 s, respectively. Initially, a 2.0 g force filament was used for the diabetic rats, and a 6.0 g force filament was used for the control rats. If a positive response to a given filament was observed, the next smaller filament was then used. If a negative response occurred, the next larger filament was used. The test continued until four responses were collected after the first change in response. The tactile stimulus producing a 50% likelihood of paw withdrawal threshold (PWT) calculated using an adaptation of the Dixon up-down paradigm was used to calculate the nociceptive threshold.
Open field test
Locomotor activity was measured using the open field text. Individual rats were placed in an arena (diameter 122 cm, height 45 cm) with a base that was equally divided into 16 sectors and allowed to move freely for 5 min. Subsequently, the numbers of times the rats crossed the grids and reared were counted [
24
].
BV2 cell culture and activation
BV2 cells, which were purchased from Cell Bank of Chinese Academy of Medical Sciences, Beijing, China, were maintained in Dulbecco' s Modified Eagle Medium (DMEM, Invitrogen, Camarillo, USA) with 10% fetal bovine serum (FBS, Invitrogen, Camarillo, USA) in a 5% CO2 incubator. Before incubated with LPS and ammoxetine, cells were seeded into 24-well plate at a density of 1 ✕ 105 cells/ml with serum-free DMEM overnight. On the next day, cells were stimulated with LPS (200 ng/ml) in the absence or presence of the indicated concentrations of ammoxetine for 24 h and then collected for western blot and cell immunofluorescence analyze. The culture medium was collected for the analysis of tumor necrosis factor-α (TNF-α) release by ELISA.
Cell viability assay
Cell viability was determined by the tetrazolium salt 3-[4,5-dimethylthiazol-2-yl]-2,5-diphenyltetrazolium bromide (MTT, Sigma-Aldrich, USA) assay. Cells were plated into 96-well culture plates at a density of 5 ✕ 104 cells/ml with 200 ml culture medium per well. Following treatment with different concentrations (0.1, 1, 10, 20, 50, and 100 μM) of ammoxetine for 24 h, 5 mg/ml MTT solution was added to each well and incubated at 37 °C for 4 h. The medium was aspirated, and 200 ml dimethyl sulfoxide was added. The absorbance value was measured using a multi-well spectrophotometer (Perkin Elmer, USA) at 490 nm.
Preparation of protein samples
Rats were euthanized immediately after the last pain behavior test. The spinal cords were promptly removed and immediately frozen and stored in liquid nitrogen until assay. Samples were weighed and homogenized in RIPA lysis buffer containing proteinase inhibitors and protein phosphatase inhibitors. After incubation for 30 min on ice, tissue homogenates were centrifuged at 12000 rpm for 30 min at 4 °C and the supernatant was then collected. Cells were washed with PBS and collected with RIPA buffer, and protein solution was collected after centrifugal. The protein concentration was determined using a BCA assay kit (Thermo, Rockford, USA).
Western blot
Protein samples (40 μg) were subjected to electrophoresis on a 10% Tris-HCl SDS-PAGE gel (Bio-Rad, Hercules, CA) and transferred onto a PVDF membrane (Merck Millipore, MA, USA). After blocking nonspecific binding sites with 5% non-fat milk or bovine serum albumin in 0.1% Tween-20/Tris-buffered saline (TBS-T) for 1 h at room temperature, membranes were incubated with primary antibodies GFAP (Merck Millipore), iba-1 (Abcam), Total-p38, p-p38, total-ERK, p-ERK, total-JNK, p-JNK, p-ATF2, I-κBα, and nuclear factor-kB/P65 (NF-Κb/P65) (Cell Signaling Technology) overnight at 4 °C. Then, membranes were washed with TBS-T and probed with a secondary antibody (1:5000, Santa Cruz Biotechnology, CA, USA) for 1 h at room temperature. After washing, the protein bands were visualized using an enhanced chemiluminescence assay (Merck Millipore), according to the manufacturer's instructions. The membranes were re-probed with an anti-β-actin antibody (Merck Millipore) after stripping. The signal intensity of the bound primary antibody was quantitatively analyzed with a Gel-Pro analyzer 4 and normalized to the loading control β-actin.
ELISA
The contents of TNF-α, interleukin-1β (IL-1β), and interleukin-6 (IL-6) in the lumbar spinal cord homogenates and cell culture medium were measured using enzyme-linked immunosorbent assays (ELISAs; Invitrogen, Camarillo, CA). Briefly, 50 μl of each sample and the biotinylated anti-TNF-α, anti-IL-1β, or anti-IL-6 antibodies were added to two wells of the appropriate 96-well plate and incubated for approximately 2 h at room temperature. The plates were then washed and incubated with 100 μl of streptavidin-HRP for 30 min at room temperature. After incubation for 30 min, 100 μl of the stabilized chromogen were added to each well and 100 μl of stop solution were added to stop the reaction. The absorbance was detected at 450 nm. The concentrations of IL-1β, IL-6, and TNF-α were calculated according to the standard curve and presented as pg/mg protein in tissue homogenate or pg/ml in culture medium.
Immunofluorescence
Rats were deeply anesthetized and the lumbar spinal cords were collected after transcardial perfusion with PBS followed by 4% paraformaldehyde (PFA). Tissue was then immersed in 4% PFA for 12 h following perfusion, cryoprotected in 30% sucrose, and embedded in OCT and frozen. Tissue was cryosectioned (10 μm), and sections were dried, washed three times in PBS, and blocked with 5% goat serum and in PBS for 1 h at room temperature. Primary antibodies were diluted in antibody buffer (containing 0.2% Triton X-100 and 5% goat serum) as follows: anti-iba1 (1:200, Wako), anti-GFAP (1:200, Millipore), and incubated overnight at 4 °C. After washing, samples were labeled with a secondary antibody conjugated Alexa647 (Abcam) and counter-stained with DAPI. Microglia cells were fixed in paraformaldehyde 4% for 20 min and then washed three times with PBS. Sections were blocked with 10% donkey serum and 0.3% Triton X-100 at room temperature for 30 min. Primary iba1 antibody (1:200, Wako) was incubated overnight at 4 °C. Corresponding anti-rabbit antibody conjugated Alexa647 (Abcam) was incubated at room temperature. Slides were imaged using Nikon A1 confocal laser microscope system and quantified using Image-Pro Plus 7.0 software.
Statistical analysis
The statistical analysis was performed using GraphPad Prism software (GraphPad Prism 5.0, version 2.0; GraphPad Software Inc., San Diego, CA, USA). The data are all expressed as means ± SEM. The data obtained from the time-course measurements of mechanical thresholds and open field test behavior analyses were conducted using two-way repeated-measures ANOVA followed by Bonferroni's post hoc analysis. ELISA and western blot data were analyzed using Student's
t
test or a one-way analysis of variance (ANOVA) followed by Dunnett's test. For data exhibiting unequal variances, a Mann-Whitney
U
test or a Kruskal-Wallis test followed by Dunn's multiple comparison test were applied. Probability values of less than 0.05 were considered statistically significant.
Results
Discussion
The present study is the first to report that ammoxetine, a novel SNRI, presents chronic analgesic and depression ameliorative effects in the rat model of STZ-induced DNP. We also observed an increase in the levels of the inflammatory cytokines, including TNF-α, IL-1β, in the spinal cord of diabetic rats, and ammoxetine decreased the levels of TNF-α and IL-1β. In addition, ammoxetine-induced reduction in the levels of inflammatory cytokines is mediated by inhibiting the action of microglia and the phosphorylation of p38 and JNK, but is not associated with astrocytes, ERK, or NF-κB.
We conducted in vitro experiments by using the model of LPS-induced activation of BV-2 microglia to investigate the direct effect of ammoxetine on the activation of microglia. The results showed that LPS incubation induced activation of microglia and the phosphorylation of JNK, ammoxetine directly inhibited the activation of microglia and the release of TNF-α. Ammoxetine reduced the phosphorylation of p38 and JNK in vitro and decreased the level of p-ATF2. ATF2 is the downstream molecules of the MAPK signal pathway and can be phosphorylated and activated by p-p38MAPK and p-JNK. The results indicate that the anti-inflammatory of ammoxetine may be contributed to inhibiting the p38MAPK and JNK signaling.
The limitation of our study is that we cannot exclude the primary target responsible for the inhibitory effect of ammoxetine on microglial cell activation and the release of inflammatory cytokines. Further studies are required to confirm the time course of the increase/activation and the observable inhibition, whether these findings are related to descending inhibitory pathway.
Conclusions
In conclusion, chronic treatment with ammoxetine, a potent balanced 5-HT and NE reuptake inhibitor, resulted in a sustained analgesic effect and improved depressive-like behaviors in STZ-induced diabetic rats. Moreover, the data highlight a role for the inhibition of microglial activation and the production of inflammatory cytokines in the anti-allodynic mechanism of ammoxetine in DNP. Furthermore, increased phosphorylation of intracellular signaling molecules, including p38, JNK, and ERK, confirms functional activation of microglia and the neuro-immune response in DNP rats. The inhibitory effect of ammoxetine on p38 and JNK phosphorylation may represent the signal transduction mechanism underlying its analgesic effect on this model.
Funding
This work was supported by the National Key New Drug Creation Program (no. 2017ZX09309020) and the National Natural Science Foundation of China (nos. 81302761, 81703730).
Availability of data and materials
The datasets during and/or analyzed during the current study are available from the corresponding author on reasonable request.
Ethics approval and consent to participate
The procedures on animal experimentation were approved by the Animal Care Committee of the Chinese People's Liberation Army General Hospital (Beijing, China). The maintenance and handling of the mice were consistent with the guidelines of the National Institutes of Health, and adequate measures were taken to minimize animal discomfort.
Competing interests
The authors declare that they have no competing interests.
Publisher's Note
Springer Nature remains neutral with regard to jurisdictional claims in published maps and institutional affiliations.
Open Access
This article is distributed under the terms of the Creative Commons Attribution 4.0 International License (
http://​creativecommons.​org/​licenses/​by/​4.​0/​
), which permits unrestricted use, distribution, and reproduction in any medium, provided you give appropriate credit to the original author(s) and the source, provide a link to the Creative Commons license, and indicate if changes were made. The Creative Commons Public Domain Dedication waiver (
http://​creativecommons.​org/​publicdomain/​zero/​1.​0/​
) applies to the data made available in this article, unless otherwise stated.