01.12.2018 | Research article | Ausgabe 1/2018 Open Access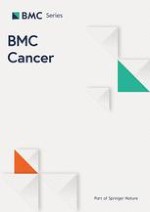 Amphotericin B suppresses M2 phenotypes and B7-H1 expression in macrophages to prevent Raji cell proliferation
Zeitschrift:
Autoren:

Jing Zhang, Dongqing Cao, Shuangquan Yu, Lingchao Chen, Daolin Wei, Chang Shen, Lin Zhuang, Qian Wang, Xiaoping Xu, Yin Tong
Wichtige Hinweise
Electronic supplementary material
Abstract
Background
Macrophages in the tumor microenvironment play a critical role in tumorigenesis and anti-cancer drug resistance. Burkitt's lymphoma (BL) is a B-cell non-Hodgkin's lymphoma with dense macrophage infiltration. However, the role for macrophages in BL remains largely unknown.
Methods
B7-H1, a transmembrane glycoprotein in the B7 family, suppresses T cell activation and proliferation and induces the apoptosis of activated T cells. The expression of B7-H1 in BL clinical tissues was determined by streptavidin-peroxidase immunohistochemistry. The mutual regulation between macrophages and BL Raji cells was investigated in a co-culture system. The cell proliferation and cell cycle distribution of Raji cells were determined using BrdU staining coupled with flow cytometry. CD163, CD204 and B7-H1 expression was assessed by flow cytometry and Western blot. Cell invasion was analyzed by Transwell assay. The expression of cytokines was detected by quantitative RT-PCR. Immunofluorescence and allogeneic T-cell proliferation assays were used to compare the expression of B7-H1, p-STAT6, or p-STAT3 and CD3+ T cell proliferation treated with or without amphotericin B.
Results
B7-H1 was highly expressed in tumor infiltration macrophages in most clinical BL tissues. In vitro, Raji cells synthesized IL-4, IL-6, IL-10 and IL-13 to induce CD163, CD204 and B7-H1 expression in co-cultured macrophages, which in turn promoted Raji cell proliferation and invasion. Interestingly, antifungal agent amphotericin B not only inhibited STAT6 phosphorylation to suppress the M2 polarization of macrophages, but also promoted CD3+ T cell proliferation by regulating B7-H1 protein expression in macrophages.
Conclusion
Amphotericin B might represent a novel immunotherapeutic approach to treat patients with BL.