01.01.2012 | Article | Ausgabe 1/2012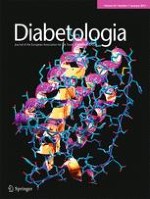 Amylin and leptin activate overlapping signalling pathways in an additive manner in mouse GT1-7 hypothalamic, C2C12 muscle and AML12 liver cell lines
Zeitschrift:
Autoren:

H.-S. Moon, J. P. Chamberland, C. S. Mantzoros
Wichtige Hinweise
Electronic supplementary material
The online version of this article (doi:
10.​1007/​s00125-011-2332-0
) contains peer-reviewed but unedited supplementary material, which is available to authorised users.
Abstract
Aims/hypothesis
It has been suggested that amylin amplifies leptin's effects and affects energy homeostasis synergistically with leptin in animals and humans. However, no previous study has reported on amylin and leptin signalling in hypothalamic, muscle and liver cells.
Methods
Leptin and amylin signalling studies were performed in vitro in mouse GT1-7 hypothalamic, C2C12 muscle and AML12 liver cell lines.
Results
Treatment of mouse GT1-7 and C2C12 cells with leptin or amylin increased signal transducer and activator of transcription 3 (STAT3) phosphorylation in a dose- and time-dependent manner. In mouse AML12 cells, leptin and amylin produced a biphasic response of STAT3 activity. Importantly, all leptin and amylin signalling pathways were saturable at leptin and amylin concentrations of ∼100 and ∼50 to 100 ng/ml, respectively. Leptin and amylin in combination activated STAT3, AMP-activated protein kinase (AMPK), extracellular signal-regulated kinase (ERK) 1/2 and Akt signalling pathways in an additive manner, effects that were abolished under endoplasmic reticulum (ER) stress. Leptin, but not amylin, increased IRS-1 phosphorylation in GT1-7 hypothalamic, but not in C2C12 muscle and AML12 liver cell lines.
Conclusions/interpretation
Our data suggest that leptin and amylin have overlapping and additive, but not synergistic, effects in the activation of intracellular signalling pathways. ER stress may induce leptin and amylin resistance in hypothalamic, muscle and liver cell lines. These novel insights into the mode of action of leptin and amylin suggest that these hormones may play an additive role in regulating energy homeostasis in humans.