01.12.2017 | Research article | Ausgabe 1/2017 Open Access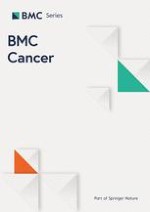 An analysis of 97 previously diagnosed de novo adult acute erythroid leukemia patients following the 2016 revision to World Health Organization classification
Zeitschrift:
Autoren:

Shaowei Qiu, Erlie Jiang, Hui Wei, Dong Lin, Guangji Zhang, Shuning Wei, Chunlin Zhou, Kaiqi Liu, Ying Wang, Bingcheng Liu, Yuntao Liu, Benfa Gong, Xiaoyuan Gong, Sizhou Feng, Yingchang Mi, Mingzhe Han, Jianxiang Wang
Wichtige Hinweise
Electronic supplementary material
The online version of this article (doi:
10.​1186/​s12885-017-3528-6
) contains supplementary material, which is available to authorized users.
Abbreviations
AEL
Acute erythroid leukemia subtype
IPSS
International Prognostic Scoring System
WHO
World Health Organization
Background
Methods
Patients
All patients were diagnosed de novo acute erythroid/myeloid leukemia, while pure erythroid leukemia, AML with MDS-related changes and recurrent genetic abnormalities were precluded. All study regimens were in accordance with the Declaration of Helsinki and approved by the institutional review boards of the hospital. All patients were investigated by morphology, bone marrow aspiration and cytogenetic analysis. They all provided written informed consent for sample analyses. All the patients received DA (daunorubicin 40-45 mg/m 2 on day1–3 and cytarabine 100-150 mg/m 2 on day 1–7) or HAA (Homoharringtonine 2 mg/m 2 on day 1–7,cytarabine 100-150 mg/m 2 on day 1–7 and aclarubincin 20 mg/d on day 1–7) or HAD (Homoharringtonine 2 mg/m 2 on day 1–7,cytarabine 100-150 mg/m 2 on day 1–7 and daunorubicin 40 mg/m 2 on day 1–3) as induction regimens. Once CR had been achieved, all the patients were suggested to receive allogeneic hematopoietic stem cell transplantation. If the patients cannot afford transplantation or cannot find suitable donor, they would receive HD-Ara-C (cytarabine 3 g/m 2 per 12 h on day1–3) or MA (mitoxantrone 8 mg/m 2 on day 1–3 and cytarabine 1.5 g/m 2 per 12 h on day1–3) or DA (daunorubicin 40 mg/m 2 on day 1–3 and cytarabine 1.5 g/m 2 per 12 h on day1–3) as consolidation regimens. Clinical follow-up information, including overall survival (OS) and disease free survival (DFS) were retrieved from the electronic medical record and telephone communication. The median follow up was 21.9 month, the last follow-up time was 31/8/2016.
Conventional cytogenetics
At least twenty metaphases were analyzed in chromosomal analysis. The results were recorded adopting the International system for Human Cytogenetic Nomenclature.
Molecular mutation analysis
Gene mutation analysis was performed for
FLT3-ITD
(
n
= 69),
NPM
1 (
n
= 47),
CEBPA-BZIP
(
n
= 47),
CEBPA-TAD
(
n
= 47),
C-kit exon8
(
n
= 47),
C-kit exon17
(
n
= 47),
DNMT3A
(
n
= 33),
IDH1
(
n
= 16),
IDH2
(
n
= 16).
Statistical analyses
The Fisher exact test and χ
2
test were applied to variables. OS was defined as the time from diagnosis to death or last follow-up time. DFS was defined as the time from complete remission (CR) to relapse or death or last follow-up time. OS and DFS were estimated by Kaplan-Meier method. Survival curves were compared by the log-rank test. Multivariate analysis was performed by Cox proportional regression model. All tests were two-sided, accepting
p
value of 0.05 or below as indicating a statistically significant difference. Statistical analyses were performed by SPSS software version 18.0.
Results
Discussion
In our study, previously diagnosed AEL cases were modified as AML subtype or MDS subtype following the new classification. The majority of AEL cases were diagnosed as MDS, accounting for 2/3 of the patients. After comparing the clinical characteristics, cytogenetic risk and molecular mutation of two subtypes, we found that there were no difference between two subtypes except for male/female ratio and age. When the survival of previously AEL cases was analyzed, only MRC cytogenetic category and age were correlated with survival, regardless of MDS/AML subtype. Transplantation was beneficial for all the patients, particular MDS patients. However, when the patients whose age were below 40 and cytogenetic risk belonged to the intermediate category, the survival of those who only receive chemotherapy was similar to that of the patients who received transplantation eventually. Therefore, taking expensive cost and severe complication of transplantation into consideration, it was suggested this population of patients could receive chemotherapy as main treatment choice.
Conclusions
Following the new classification, there were no differences between MDS and AML subtype except for male/female ratio and age. Cytogenetic, rather than MDS/AML subtypes, can better represent the prognostic factor of previously diagnosed AEL patients. Transplantation was a better choice for those whose cytogenetic category was unfavorable.
Acknowledgements
Thanks for Dr. Q Sun and Dr. HJ Zhang for reviewing the diagnosis of the cases.
Funding
This work was supported by grants from the National Natural Science Foundation of China (81,670,171, 81,430,004), Tianjin Research Program of Application Foundation and Advanced Technology (16JCQNJC12200), Tianjin hematology clinical medicine research center construction (15ZXLCSY00010). None of the funding bodies had any part in the design of the study and collection, analysis, and interpretation of data, or in writing the manuscript.
Availability of data and materials
The raw data of patients supporting the conclusions of this article are included in Additional file
3
.
Ethics approval and consent to participate
All patients gave written informed consent for sample analysis, and the investigation was approved by the ethical advisory board of Institute of Hematology and Blood Diseases Hospital.
Consent for publication
Not applicable.
Competing interests
The authors declare no competing financial interests.
Publisher's Note
Springer Nature remains neutral with regard to jurisdictional claims in published maps and institutional affiliations.
Open Access
This article is distributed under the terms of the Creative Commons Attribution 4.0 International License (
http://​creativecommons.​org/​licenses/​by/​4.​0/​
), which permits unrestricted use, distribution, and reproduction in any medium, provided you give appropriate credit to the original author(s) and the source, provide a link to the Creative Commons license, and indicate if changes were made. The Creative Commons Public Domain Dedication waiver (
http://​creativecommons.​org/​publicdomain/​zero/​1.​0/​
) applies to the data made available in this article, unless otherwise stated.