12.02.2019 | Original Article | Ausgabe 4/2019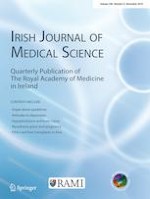 An analysis of childhood consultations in general practice: a multi-practice study
Zeitschrift:
Autoren:

Jane O'Doherty, Ailish Hannigan, Louise Hickey, Walter Cullen, Clodagh O'Gorman, Ray O'Connor, Liam Glynn, Eimear O'Neill, Andrew O'Regan
Wichtige Hinweise
Publisher's note
Springer Nature remains neutral with regard to jurisdictional claims in published maps and institutional affiliations.
Abstract
Background
The majority of illnesses in children are managed by general practitioners (GPs) and there is a need for up to date data on consultations with children in order to improve healthcare service planning and allocation of resources.
Aims
To investigate the presenting symptoms, diagnoses and actions taken by the GP at consultations with children in general practice.
Methods
Senior medical students on general practice placement and their GP supervisors used practice management software to collect data on 100 randomly selected patients aged between 12 months and 14 years of age in each practice. Presenting symptoms, diagnoses and actions taken by the GP for the most recent attendance in the previous 12 months were summarised by age group (1–4 years; 5–10 years; 11–14 years).
Results
Data were collected from 5959 patients at 64 practices. During the 12-month study, 3241 (54%) of children had a consultation with their GP. The most common presenting symptoms were respiratory (1–4 yrs, 28%; 5–10 yrs, 39%; 11–14 yrs, 32%) and skin complaint (1–4 yrs, 13%; 5–10 yrs, 16%; 11–14 yrs, 21%). The most common actions for all age groups were prescribing (1–4 yrs, 55%; 5–10 yrs, 58%; 11–14 yrs, 56%) and providing reassurance (1–4 yrs, 53%; 5–10 yrs, 51%; 11–14 yrs, 48%). Rates of referral and requiring further investigation increased with age.
Conclusion
This study provides a comprehensive snapshot of what children commonly present with in general practice, common diagnoses and the actions taken by GPs. The findings will help GPs to organise their practice systems and will inform healthcare service planners.