01.12.2014 | Clinical Article - Brain Tumors | Ausgabe 12/2014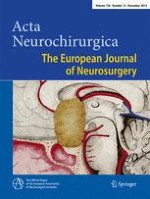 An analysis of granulation patterns, MIB-1 proliferation indices and p53 expression in 101 patients with acromegaly
Zeitschrift:
Autoren:

Sauradeep Sarkar, Ari George Chacko, Geeta Chacko
Wichtige Hinweise
This paper was presented in part by Dr. Geeta Chacko at the Annual Meeting of the International Society of Pituitary Surgeons held at Mumbai, India, on 7 December 2013
Comment
This large acromegaly series is of interest because, apart from its good size, is 'pure' in that there was no pretreatment with somatostatin analogs, something that First World surgeons seldom see. As is typical in the South Asian subcontinent, half of the tumors are surgically 'incurable' because of anatomical disposition, with Knosp grades of 3+. We Westerners can be grateful that this is not so much the case with us. All pituitary clinicians would like a histological marker that could predict tumor behavior. Alas, this series cannot do that. However, this well-conducted histopathological series, although not really new, has been done properly and comes to some helpful conclusions. We should stick to MIB-1, for although it is far from perfect, it has at least some use, and we can abandon expensive and in this setting useless p53 and likewise methylation. The observations with regard to the sparsely and densely granulated tumors are interesting, as are the failure to find genetic predisposition families, which are turning up with greater regularity in the West. One can infer that imaging 'invasion' is not aggressive tumor, but almost certainly reflects the disposition of the anatomical situation in the margins of the sella area.
Michael Powell
London, UK
Abstract
Background
Despite the wide spectrum of adenoma behavior in patients with acromegaly, the ability of most pathological markers to predict clinical and radiological behavior remains controversial. The authors sought to comprehensively examine clinical and radiological correlates of growth hormone (GH)-secreting pituitary adenomas with regard to several commonly used immunocytochemical techniques in patients undergoing transsphenoidal surgery for acromegaly.
Method
We performed a retrospective review of histopathological findings in 101 surgically resected GH adenomas. Tumors were assessed radiologically for different patterns of extension. Each tumor specimen was subject to immunocytochemical analysis, including assessments of granulation patterns, MIB-1 labeling indices, prolactin cosecretion, p53 expression and mitotic activity. Endocrinological outcome was assessed in 93 patients, with remission defined by the 2010 consensus criteria.
Results
Most tumors were macroadenomas and almost half were invasive. When compared to densely granulated tumors, sparsely granulated adenomas were associated with a younger age at presentation, higher preoperative IGF-1 levels, elevated MIB-1 index and pure GH immunostaining, but did not differ significantly in terms of extrasellar invasion or outcome. Increased mitotic activity and p53 expression were also associated with higher proliferation indices and a younger age at presentation. Mixed GH/prolactin tumors demonstrated significantly higher remission rates, independent of variations in extrasellar growth. MIB-1 indices did not correlate with the preoperative GH/IGF-1 levels, adenoma size or Knosp grade.
Conclusion
The pathobiology of acromegaly is complex, and the clinicoradiological significance of subtyping on the basis of the markers employed in this study is debatable. Further investigation of newer molecular markers is warranted.