01.12.2018 | Research article | Ausgabe 1/2018 Open Access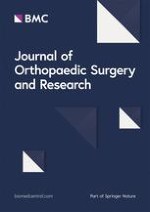 An anthropometric study of distal tibiofibular syndesmosis (DTS) in a Chinese population
Zeitschrift:
Autoren:

Mingyang Yu, Yao Zhang, Yun Su, Feng Wang, Dewei Zhao
Abstract
Background
To improve the diagnostic accuracy of distal tibiofibular syndesmoses (DTS), this study quantified the range in variations of the normal DTS in a Chinese population, based on CT scan images.
Methods
The study population comprised 92 patients with unilateral ankle injury. CT scans included the non-injured contralateral DTS. The position of the fibula relative to the fibular notch (incisure) of the tibia was quantified by inclusion or separation indices, based on whether the fibula was within or outside the fibular incisure, respectively. The patients were apportioned accordingly to either a DTS contained- or separate-type group (average ages 45 and 42.1 years, respectively; 19 men/26 women and 24 men/23 women). Further variations in the position of the fibula relative to the tibia were quantified with length, anterior, and posterior indices.
Results
The baseline characteristics of the contained- and separate-type groups were statistically comparable. The length, anterior, extra-anterior, posterior, and extra-posterior indices were successfully calculated. The anterior index of the contained group was significantly greater than that of the separated group, while the posterior index was significantly less.
Conclusions
This study provides measurements of the normal tibiofibular syndesmosis in a Chinese population. In individuals whose fibula lay within the fibular incisure of the tibia, the fibula was likely to be more anterior than that of individuals whose fibula lay outside the incisure. Offered as a reference, these data should improve diagnosis of injury of the DTS.