01.12.2016 | Research | Ausgabe 1/2016 Open Access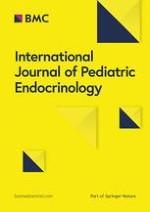 An audit of the management of childhood-onset growth hormone deficiency during young adulthood in Scotland
Zeitschrift:
Autoren:

M. Ahmid, V. Fisher, A. J. Graveling, S. McGeoch, E. McNeil, J. Roach, J. S. Bevan, L. Bath, M. Donaldson, G. Leese, A. Mason, C. G. Perry, N. N. Zammitt, S. F. Ahmed, M. G. Shaikh
Wichtige Hinweise
Competing interests
The authors declare that they have no competing interests.
Authors' contributions
MA and MGS designed, performed data collection, performed the main part of statistical analysis, and wrote the initial draft of the manuscript. SFA conceived of the study and participated in its design and coordination as well as drafting the manuscript. AJG, SM, GL, JSB contributed in data collection and interpretations. All authors made substantial contributions read, edited and approved the final manuscript.
Abstract
Background
Adolescents with childhood onset growth hormone deficiency (CO-GHD) require re-evaluation of their growth hormone (GH) axis on attainment of final height to determine eligibility for adult GH therapy (rhGH).
Aim
Retrospective multicentre review of management of young adults with CO-GHD in four paediatric centres in Scotland during transition.
Patients
Medical records of 130 eligible CO-GHD adolescents (78 males), who attained final height between 2005 and 2013 were reviewed. Median (range) age at initial diagnosis of CO-GHD was 10.7 years (0.1–16.4) with a stimulated GH peak of 2.3 μg/l (0.1–6.5). Median age at initiation of rhGH was 10.8 years (0.4–17.0).
Results
Of the 130 CO-GHD adolescents, 74/130(57 %) had GH axis re-evaluation by stimulation tests /IGF-1 measurements. Of those, 61/74 (82 %) remained GHD with 51/74 (69 %) restarting adult rhGH. Predictors of persistent GHD included an organic hypothalamic-pituitary disorder and multiple pituitary hormone deficiencies (MPHD). Of the remaining 56/130 (43 %) patients who were not re-tested, 34/56 (61 %) were transferred to adult services on rhGH without biochemical retesting and 32/34 of these had MPHD. The proportion of adults who were offered rhGH without biochemical re-testing in the four centres ranged between 10 and 50 % of their total cohort.
Conclusions
A substantial proportion of adults with CO-GHD remain GHD, particularly those with MPHD and most opt for treatment with rhGH. Despite clinical guidelines, there is significant variation in the management of CO-GHD in young adulthood across Scotland.