01.12.2017 | Case report | Ausgabe 1/2017 Open Access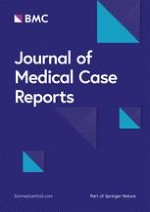 An exotic abscess within the United Kingdom from The Gambia: a case report
Zeitschrift:
Autoren:

Estelle Hong How, Darren Yap, Nik Mbakada
Background
Furuncular myiasis is a parasitic infestation of the body of a live mammal by fly larvae of dipterous insects that feed on their host's tissue to grow and mature. This condition is only prevalent in tropical countries where these flies are common; these flies normally do not thrive in the United Kingdom (UK) [
1
,
2
]. However, with globalization and the prodigious advancement in transportation, there is an increase in the number of reported cases of furuncular myiasis in the UK [
1
,
3
]. This exotic infestation can in fact pose a significant diagnostic challenge for clinicians. In this era, where exotic infections could potentially lead to catastrophic life-threatening epidemics, it is important to take a good travel history. It is extremely important to have an awareness of disease prevalence in the areas of travel and the ability to access up-to-date information [
1
,
2
]. To the best of our knowledge, only 12 cases of furuncular myiasis by the tumbu fly have been reported in the UK and we present the 13th case of this unfamiliar condition [
4
–
7
] (Table
1
).
Table 1
Reported cases of furuncular myiasis within the current literature
Characteristics of furuncular myiasis in returning travelers in the United Kingdom

Article

Study year

Number of cases

Country of origin

Gender

Age (years)

Number of lesions

Number of extracted maggots

Location of lesions

Symptoms

1994–2000

6

The Gambia

*

*

*

*

*

*

2

Nigeria

*

*

*

*

*

*

1

Equatorial Guinea

*

*

*

*

*

*

2006

1

Angola

Male white

39

1 + (unreported number of lesions)

1

Face, thigh, buttocks

Pain, swelling, erythema

1992

1

Nairobi

Male

26

12

12

Mid-scapular region

Pain, itch

2009

1 (via household contact)

Uganda

Male

40

1

1

Right forearm

Itch, swelling, erythema
Case presentation
A 32-year-old white woman presented to her general practitioner (GP) with a 1-week history of two thigh lumps and another on her left flank. She first noticed these lumps a week after returning from her holiday in The Gambia. She was otherwise well with no significant past medical history. Her GP had treated her as having multiple skin abscesses and started her on a course of antibiotic therapy (amoxicillin). Two days later, she expressed two live maggots from the thigh abscesses which prompted her to visit our Emergency department (ED).
On initial examination she was systemically well and apyrexial. Two abscesses, each measuring approximately 2 × 2 cm were noted on her right thigh and one on her left flank. The lesions had a punctum surrounded by a ring of erythema with no obvious discharge as shown in Fig.
1
. There was no evidence of tracking cellulitis or lymphadenopathy. A live maggot approximately 6 mm long was expressed when pressure was applied to her flank lesion as shown in Fig.
2
.
×
×
She was discharged home on a course of flucloxacillin (1 g, four times a day for 7 days) and a follow-up appointment was arranged. We contacted The Liverpool School of Tropical Medicine for advice and the African tumbu fly was suggested to be the culprit. No formal entomology examination was carried out and microbiology culture samples yielded no growth after 48 hours. The Liverpool School of Tropical Medicine recommended covering the lesions with Vaseline (petroleum jelly) and occlusive dressing to suffocate any further larvae and replacing flucloxacillin with co-amoxiclav. Our patient was seen 2 days later and the diagnosis was explained. The wounds were healing remarkably and she was discharged with an antibiotic course of co-amoxiclav (500/125 mg tablet, three times a day for 7 days) with no further follow-up required.
Discussion
Conclusions
Despite being very common in Africa, furuncular myiasis by tumbu fly is a rare condition encountered by doctors in other countries. Subsequently, most practitioners are unfamiliar with the condition. However, with globalization and faster means of travel, an increased incidence has been reported in non-endemic countries. In most cases reported, the condition was quite often misdiagnosed for other infections, for example herpes zoster, impetigo, or folliculitis, consequently, causing undue distress in the patient [
12
,
14
]. In addition, antibiotics and other unnecessary medications were often prescribed to patients with no results. This highlights the importance of better awareness of tropical infections to avoid any misdiagnosis, delay in diagnosis, or inappropriate treatment [
7
,
13
,
18
,
20
].
Acknowledgements
Not applicable.
Funding
No funding obtained from external sources.
Availability of data and materials
Not applicable.
Ethics approval and consent to participate
Not applicable.
Consent for publication
Written informed consent was obtained from the patient for publication of this case report and accompanying images. A copy of the written consent is available for review by the Editor-in-Chief of this journal.
Competing interests
The authors declare that they have no competing interests.
Publisher's Note
Springer Nature remains neutral with regard to jurisdictional claims in published maps and institutional affiliations.
Open Access
This article is distributed under the terms of the Creative Commons Attribution 4.0 International License (
http://​creativecommons.​org/​licenses/​by/​4.​0/​
), which permits unrestricted use, distribution, and reproduction in any medium, provided you give appropriate credit to the original author(s) and the source, provide a link to the Creative Commons license, and indicate if changes were made. The Creative Commons Public Domain Dedication waiver (
http://​creativecommons.​org/​publicdomain/​zero/​1.​0/​
) applies to the data made available in this article, unless otherwise stated.