21.08.2018 | Original Research | Ausgabe 12/2018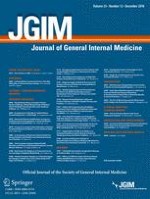 An Exploration of Residents' Implicit Biases Towards Depression—a Pilot Study
Zeitschrift:
Autoren:

MD, MACM Kathleen Crapanzano, PhD Dixie Fisher, PhD Rebecca Hammarlund, MD Eric P. Hsieh, MBBS, PhD Win May
Abstract
Background
Implicit attitudes are outside of conscious awareness and are thought to affect automatic responses outside of one's deliberate control, with the potential to impact physician-patient relationships.
Objective
To measure the nature and extent of implicit biases towards depression in internal medicine and psychiatry residents.
Design
Descriptive and comparative study.
Participants
Fifty-one residents from three internal medicine programs and 35 residents from three psychiatry programs located in two states.
Interventions
Participants were sent a link to voluntarily participate in four online implicit association tests. Residents' identities were anonymous.
Main Measures
Four implicit association tests to measure the association of (1) attitude (good/bad), (2) permanence, (3) controllability, and (4) etiology with depression/physical illness.
Key Results
Internal medicine residents demonstrated a significant association between depression and negative attitudes (
t
(38) = 6.01,
p
 < .001, Cohen's
d
 = .95), uncontrollability (
t
(35) = 4.80,
p
 < .001, Cohen's
d
 = .79), temporariness (
t
(37) = 2.94,
p
 = .006, Cohen's
d
 = .48), and a psychologic etiology (
t
(1) = 6.91,
p
 < .001, Cohen's
d
 = 1.24). Psychiatry residents only demonstrated an association between depression and a psychologic etiology (
t
(2) = 4.79,
p
 < .001, Cohen's
d
 = 4.5). When comparing the two specialties, internal medicine and psychiatry differed on two of the IATs. Internal medicine residents were more likely to associate negative attitudes with depression than psychiatry residents (
t
(63) = 4.66,
p
 < .001, Cohen's
d
 = 1.18) and to associate depression with being uncontrollable (
t
(57) = 3.17,
p
 = .002, Cohen's
d
 = .81).
Conclusions
Internal medicine residents demonstrated biases in their attitudes towards depression and significantly differed in some areas from psychiatry residents. This pilot study needs to be replicated to confirm our findings and further work needs to be done to determine the effect of these attitudes on the provision of clinical care.