01.05.2014 | Research | Sonderheft 1/2014 Open Access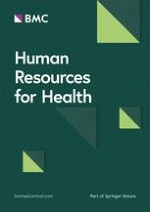 An exploratory analysis of the regionalization policy for the recruitment of health workers in Burkina Faso
Zeitschrift:
Autoren:

Seni Kouanda, W Maurice E Yaméogo, Valéry Ridde, Issa Sombié, Banza Baya, Abel Bicaba, Adama Traoré, Blaise Sondo
Wichtige Hinweise
Competing interests
The authors declare no competing interests.
Authors' contributions
VR and SK designed the study. SK wrote the introduction, the results, and the conclusion. WMEY wrote the methodology and the results. VR reviewed the manuscript. All authors performed reviews of drafts for intellectual content and approved the final manuscript.
Abstract
Background
Health personnel retention in remote areas is a key health systems issue wordwide. To deal with this issue, since 2002 the government of Burkina Faso has implemented a staff retention policy, the regionalized health personnel recruitment policy, aimed at front-line workers such as nurses, midwives, and birth attendants. This study aimed to describe the policy's development, formulation, and implementation process for the regionalization of health worker recruitment in Burkina Faso.
Methods
We conducted a qualitative study. The unit of analysis is a single case study with several levels of analysis. This study was conducted in three remote areas in Burkina Faso for the implementation portion, and at the central level for the development portion. Indepth interviews were conducted with Ministry of Health officials in charge of human resources, regional directors, regional human resource managers, district chief medical officers, and health workers at primary health centres. In total, 46 indepth interviews were conducted (February 3 - March 16, 2011).
Results
The idea for this policy emerged after finding a highly uneven distribution of health personnel across urban and rural areas, the availability of a large number of health officers in the labour market, and the opportunity given to the Ministry of Health by the government to recruit personnel through a specific budget allocation.
The formulation consisted of a call for job applications from the Ministry of Health, which indicates the number of available posts by region.
The respondents interviewed unanimously acknowledged the lack of documents governing the status of this new personnel category.
During the initial years of implementation (2002-2003), this policy was limited to recruiting health workers for the regions with no possibility of transfer. The possibility of job-for-job exchange was then approved for a certain time, then cancelled. Starting in 2005, a departure condition was added. Now, regionalized health workers can leave the regions after undergoing a competitive selection process.
Conclusion
The policy was characterized by the absence of written directives and by targeting only one category of personnel. Moreover, there was no associated incentive—financial or otherwise—which poses the question of long-term viability.
Contexte
Le maintien en poste du personnel de la santé dans des régions éloignées est un des principaux problèmes des systèmes de santé partout dans le monde. Pour tenter de régler ce problème, le gouvernement du Burkina Faso a mis en oeuvre depuis 2002 une politique de rétention du personnel dite politique de recrutement régionalisé du personnel de la santé qui concerne les agents de première ligne que sont le personnel infirmier, les sages-femmes et les accoucheuses. Le présent article a pour objectif de décrire le processus d'émergence, de formulation et de mise en oeuvre de cette politique de régionalisation du recrutement du personnel de la santé au Burkina Faso.
Méthodes
Nous avons mené une étude qualitative. L'unité d'analyse est une étude de cas unique avec plusieurs niveaux d'analyse. L'étude a été menée dans trois régions éloignées du Burkina Faso pour la mise en oeuvre et de façon centralisée pour l'émergence. Des entrevues approfondies ont été menées avec des fonctionnaires du ministère de la Santé qui étaient ou ont été responsables des ressources humaines, des directeurs régionaux, des gestionnaires régionaux des ressources humaines, des médecins-chefs de districts et des travailleurs de la santé dans des centres de soins de santé primaires. Au total, 46 entrevues approfondies ont été menées avec des intervenants de différents groupes entre le 3 février et le 16 mars 2011.
Résultats
L'idée de cette politique a émergé à la suite du constat de la répartition très inégale entre milieux urbains et ruraux du personnel de la santé d'une part, et d'autre part de la disponibilité d'un grand nombre d'agents de santé sur le marché du travail et de la possibilité offerte au ministère de la Santé de recruter du personnel grâce à l'allocation d'un budget spécifique par le gouvernement.
La formulation consistait en un appel de candidature du ministère de la Santé qui indiquait le nombre de postes disponibles par région.
Les participants rencontrés sont unanimes pour reconnaitre l'inexistence de lignes directrices concernant le statut de cette nouvelle catégorie de personnel.
Au cours des premières années de sa mise en oeuvre (2002-2003), cette politique se résumait aux recrutements du personnel pour les régions sans aucune possibilité de départ. La possibilité d'effectuer une permutation poste pour poste a été acceptée un certain temps, puis a de nouveau été supprimée. À partir de 2005, une condition de départ a été ajoutée. Désormais, les agents régionalisés peuvent quitter les régions après l'admission à un concours professionnel.
Conclusions
Cette politique est limitée par l'absence de lignes directrices écrites et par le fait qu'elle ne s'adresse qu'à une catégorie de personnel. De plus, aucun incitatif, financier ou non, n'y a été associé, ce qui pose le problème de sa viabilité à long terme.