01.12.2018 | Research article | Ausgabe 1/2018 Open Access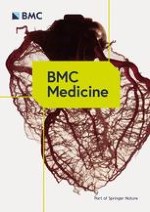 An exploratory study examining how nano-liquid chromatography–mass spectrometry and phosphoproteomics can differentiate patients with advanced fibrosis and higher percentage collagen in non-alcoholic fatty liver disease
Zeitschrift:
Autoren:

Zobair M. Younossi, Azza Karrar, Mariaelena Pierobon, Aybike Birerdinc, Maria Stepanova, Dinan Abdelatif, Zahra Younoszai, Thomas Jeffers, Sean Felix, Kianoush Jeiran, Alex Hodge, Weidong Zhou, Fanny Monge, Lakshmi Alaparthi, Vikas Chandhoke, Zachary D. Goodman, Emanuel F. Petricoin
Wichtige Hinweise
Electronic supplementary material
Abstract
Background
Non-alcoholic steatohepatitis (NASH) is among the leading causes of liver disease worldwide. It is increasingly recognized that the phenotype of NASH may involve a number of different pathways, of which each could become important therapeutic targets. The aim of this study is to use high resolution mass spectrometry (MS) and phosphoproteomics techniques to assess the serum proteome and hepatic phosphoproteome in subjects with NASH-related fibrosis.
Methods
Sixty-seven biopsy-proven NAFLD subjects with frozen sera and liver tissue were included. Reverse phase protein microarray was used to quantify the phosphorylation of key signaling proteins in liver and nano-liquid chromatography (LC)-MS was used to sequence target biomarkers in the serum. An image analysis algorithm was used to quantify the percentage of collagen (% collagen) using computer-assisted morphometry. Using multiple regression models, serum proteomes and phosphorylated hepatic proteins that were independently (
p
 ≤ 0.05) associated with advanced fibrosis (stage ≥ 2) and higher % collagen were assessed.
Results
Phosphorylated signaling pathways in the liver revealed that apoptosis signal-regulating kinase 1, mitogen-activated protein kinase (ASK1-MAPK pathway involving ASK1 S38 (
p
 < 0.02) and p38 MAPK (
p
 = 0.0002)) activated by the inflammatory cytokine interleukin (IL-10) (
p
 < 0.001), were independently associated with higher % collagen. LC-MS data revealed that serum alpha-2 macroglobulin (α2M) (
p
 = 0.0004) and coagulation factor V (
p
 = 0.0127) were independently associated with higher % hepatic collagen.
Conclusions
Simultaneous profiling of serum proteome and hepatic phosphoproteome reveals that the activation of ASK1 S38, p38 MAPK in the liver, and serum α2M and coagulation factor V are independently associated with hepatic collagen deposition in patients with NASH. These data suggest the role of these pathways in the pathogenesis of NASH-related fibrosis as a potential therapeutic target.