01.12.2014 | Study protocol | Ausgabe 1/2014 Open Access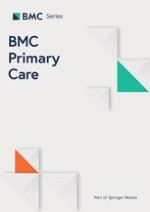 An exploratory trial of insulin initiation and titration among patients with type 2 diabetes in the primary care setting with retrospective continuous glucose monitoring as an adjunct: INITIATION study protocol
Zeitschrift:
Autoren:

Irene D Blackberry, John S Furler, Louise E Ginnivan, Hanan Derraz, Alicia Jenkins, Neale Cohen, James D Best, Doris Young, Danny Liew, Glenn Ward, Jo-Anne Manski-Nankervis, David N O'Neal
Wichtige Hinweise
Electronic supplementary material
The online version of this article (doi:
10.​1186/​1471-2296-15-82
) contains supplementary material, which is available to authorized users.
Competing interests
We wish to declare the following facts which may be considered as potential conflicts of interest and to significant financial contributions to this work:
(1) Sanofi and Medtronic provided material and financial support for the conduct of this investigator initiated study;
(2) Abbott and BD provided material support;
(3) IDB and JF received fellowship support from NHMRC Centre of Clinical Research Excellence in Diabetes;
(4) JF was also supported by an NHMRC-PHCRED Career Development Fellowship;
(3) LG and HD received travel support to attend a national conference;
(4) NC, DL, AJ, JF, LG and JMN had various financial relationships with pharmaceutical industries
outside the submitted work
including consultancies, grants, lectures, educational activities and travel;
(5) All the other authors had no conflict of interests that may be relevant to the work under consideration.
Authors' contributions
All the authors have substantial contributions towards the conception and design of the study. IDB, JF, DY, and JB conceived and developed the insulin initiation model of care. DNO, IDB, JF and AJ conceptualised the Initiation study. DY, JB, LG, NC, DL, HD, JMN and GW contributed to refinement of study protocol, trial design, insulin algorithm, outcomes, and data collection tools. IDB was the study coordinator and wrote the first draft of the manuscript. All authors contributed to subsequent drafts and approved the final version of the manuscript. DNO is the principal investigator and acts as guarantor for the study.
Abstract
Background
Insulin initiation and titration in primary care is necessary to respond to the growing epidemic of type 2 diabetes (T2D). The INITIATION study aims to evaluate the impact of implementing a new model of care with Primary Care Physician and Practice Nurse (PN) teams supported by a Credentialed Diabetes Educator-Registered Nurse (CDE-RN) and endocrinologist in initiating and titrating basal and prandial insulin for T2D patients in the Australian healthcare system over 24 weeks. This study also explores the feasibility and efficacy of retrospective continuous glucose monitoring (r-CGM) in comparison with self-monitoring of blood glucose (SMBG) among people with T2D in primary care.
Methods/Design
The study employs a before and after design with a nested exploratory trial of SMBG and r-CGM. A total of 102 insulin naïve T2D patients with a glycated haemoglobin (HbA1c) level of >7.5% in the previous 6 months while treated with maximal oral therapy will be recruited and screened from 22 primary care practices in Melbourne, Australia. All patients will be commenced on a basal insulin regimen following randomization into one of the two blood glucose monitoring arms, with intensification to a "basal plus" regimen if required. The outcomes of the new model of care will be benchmarked with data collected over the same period from a specialist setting in Melbourne, Australia.
Discussion
This article describes the study protocol and insulin treatment algorithm employed in the first study to explore r-CGM use among T2D in primary care. Findings from the INITIATION study will inform development of a larger randomized controlled trial.
Trial registration