01.12.2017 | Research | Ausgabe 1/2017 Open Access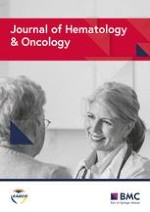 An imprinted non-coding genomic cluster at 14q32 defines clinically relevant molecular subtypes in osteosarcoma across multiple independent datasets
Zeitschrift:
Autoren:

Katherine E. Hill, Andrew D. Kelly, Marieke L. Kuijjer, William Barry, Ahmed Rattani, Cassandra C. Garbutt, Haydn Kissick, Katherine Janeway, Antonio Perez-Atayde, Jeffrey Goldsmith, Mark C. Gebhardt, Mohamed S. Arredouani, Greg Cote, Francis Hornicek, Edwin Choy, Zhenfeng Duan, John Quackenbush, Benjamin Haibe-Kains, Dimitrios Spentzos
Wichtige Hinweise
Electronic supplementary material
The online version of this article (doi:
10.​1186/​s13045-017-0465-4
) contains supplementary material, which is available to authorized users.
Abbreviations
CIMP
CpG island methylator phenotype
CTCF
CCCTC zinc finger-binding factor
DASL
cDNA-mediated annealing, selection, extension, and ligation
DGIdb
Drug Gene Interaction Database
DMR
Differentially methylated region
PANDA
Passing Attributes between Networ for Data Assimilation
PUMA
PANDA Using MicroRNA Associations
tdROC
Time-dependent receiver operating characteristic
Background
Osteosarcoma is a bone malignancy primarily affecting adolescents and young adults, which is characterized by substantial clinical heterogeneity. Although patients with optimal neoadjuvant chemotherapy response (>90% necrosis) have good prognosis, those with lower levels of tumor necrosis have more heterogeneous outcomes [
1
,
2
]. Stratification of patients using pathologic necrosis as the only prognostic stratification factor has not led to improved outcomes in adjuvant clinical trials [
3
–
5
]. MicroRNAs (miRNAs) have emerged as novel candidate biomarkers as well as potential modulators of tumor behavior. We recently described miRNA expression models for recurrence and overall survival from formalin-fixed-paraffin-embedded (FFPE) biopsy specimens that confer strong prognostic discrimination independent of chemotherapy response [
6
]. The majority of these prognostic miRNAs are located on the 14q32 locus, one of the few genomic regions that are imprinted in normal cells, which is thought to be critical in tissue development via a tightly controlled, allele-specific DNA methylation effect on gene expression. In addition, this locus contains a large cluster of non-coding elements, both miRNAs and other small nucleolar RNAs (snoRNAs) and long non-coding RNAs [
7
,
8
]. In this study, we provide evidence for the clinical utility of 14q32 miRNAs as individualized prognostic biomarkers in osteosarcoma. Additionally, we show that there are substantial global transcriptional (miRNA and messenger RNA (mRNA)) changes across clinical risk groups, and we find in vitro and clinical evidence that differential methylation in the 14q32 non-coding cluster region may be underlying the miRNA expression changes and different tumor aggressiveness phenotypes. Our findings suggest that the non-coding 14q32 cluster contains a large number of useful clinically relevant biomarkers and is a locus of substantial genomic and epigenetic alterations that give rise to novel subtypes of osteosarcoma with distinct clinical, molecular, and biological context and therapeutic implications.
Results
Discussion
Evidence to date has been disappointing with respect to the use of alternate chemotherapy regimens, such as ifosfamide/etoposide, for patients who do not achieve an optimal pathologic response to standard preoperative chemotherapy with the MAP regimen. This was further underscored by the recent publication of the results from the large international randomized EURAMOS-1 study. This may signify true lack of clinical benefit from these regimens, but it could also suggest lack of an optimal stratification approach for selection of the right patient subset. Our findings suggest that these miRNAs may also be candidates for further study as possible markers for selecting patients for such alternate regimens, in stratification schemes that may include miRNA expression and conventional pathologic necrosis in the operative specimen. Proof of this concept will require analysis in a large cohort with prospectively randomized chemotherapy regimen allocation, such that a formal test of interaction can be performed. It was inherently not possible to perform such analysis in our data, but our findings would perhaps justify such a study in the future.
We suggest that, in addition to being prognostic markers, these miRNAs may track previously unidentified osteosarcoma molecular subtypes, potentially related to imprinting defects at 14q32. We found that the subgroups of patients defined by the miRNA risk profile harbor substantially different global (genome-wide) miRNA expression patterns, as well as different mRNA expression patterns. The miRNA patterns were more strongly associated with patients' outcome compared to mRNA patterns. It is quite possible that miRNAs are better surrogates for tumor behavior, given their capacity to regulate large numbers of coding genes. In addition, miRNA detection may be more degradation proof than mRNA detection in banked tissue, though our results are possibly confounded by the smaller sample size of the mRNA dataset (compared to the miRNA dataset). That having been said, the characterization of patient samples as "high risk" versus "low risk" was consistent regardless of which particular method (supervised or unsupervised) or subset of miRNAs was used for sample risk prediction, and clustering-based groups were associated whether using either the global miRNA or the global mRNA data. Furthermore, the large-scale miRNA differences between high- and low-risk samples were also reproducible in two additional clinical and one in vitro datasets. Taken together, these observations support the notion of robust molecular subtypes in osteosarcoma with very different transcriptional programs, coding and non-coding.
The basic methylation/expression associations discovered in the cell lines were also reproducible in the large clinical osteosarcoma TARGET dataset. Perhaps more importantly, findings related to methylation sites within or outside known CTCF binding domains were highly similar between the in vitro and the clinical TARGET data. Future functional characterization and validation of the CTCF-related methylation/expression loop will require elaborate targeted designs including perhaps CRISPR approaches, but our initial observations herein, both in an in vitro and in a large clinical dataset, provide first evidence in support of this hypothesis.
Conclusions
In conclusion, our findings support a set of clinically applicable biomarkers of osteosarcoma outcome localized on the 14q32 chromosome and suggest that this genomic region defines previously unrecognized molecular subtypes with distinct transcriptional programs and epigenetic regulation. An unmet medical challenge in osteosarcoma is the propensity of this tumor for early metastasis despite effective chemotherapy in a significant subset of patients. Modulation of the non-coding 14q32 region may ultimately address the highly proliferative and migratory potential of the aggressive subtypes, thus providing valuable new therapeutic avenues in this disease.
Methods
Human and cell line miRNA, mRNA, and methylation array data
We used three previously published clinically annotated human osteosarcoma datasets. One consisted of DASL miRNA expression data from 65 and mRNA data from 37 diagnostic biopsy specimens from Beth Israel Deaconess Medical Center and Boston Children's Hospital (called "Boston dataset," GEO accession GSE39040), and another consisted of Agilent miRNA expression data from 27 frozen tissue specimens from the University of Utah (called "Utah dataset," Array Express accession E-MTAB-1136). The third dataset consisted of ABI TaqMan human microRNA qRTPCR data from 25 frozen diagnostic biopsy samples from the University of Texas Health Science Center (called "Texas dataset," GEO accession GSE79181, details of which were published before [
10
]). Cell line miRNA data (Agilent arrays) and methylation data (Illumina 27K array) were derived from 19 osteosarcoma cell lines (published by the Institute of Cancer Research, Oslo University, GEO accession GSE28425, GSE36004). Transcription and methylation array details as well as clinical cohort and cell line annotations have been previously reported [
6
,
9
,
11
,
47
].
We also used new data provided by the NCI, which launched the TARGET initiative, producing a repository of large-scale genomic data from a number of rare pediatric cancers. Within the osteosarcoma TARGET project, methylation profiles for 86 osteosarcoma patients (Illumina 450K array) and miRNA expression profiles for 89 osteosarcoma patients (MegaPlex TaqMan) became recently publicly available (
http://​target.​nci.​nih.​gov/​dataMatrix/​TARGET_​DataMatrix.​html
, retrieved November 10, 2016). The NCI has currently placed a limitation on publishing findings from analyzing osteosarcoma TARGET data. (
https://​ocg.​cancer.​gov/​programs/​target/​target-publication-guidelines
). This limitation allows investigators to only publish data from a focused analysis of a handful of genes, until the primary osteosarcoma project TARGET investigator team publishes their first "global" analysis of the genomic data. In complying with this limitation, any TARGET-derived data we present here are only related to methylation and expression analysis of a very small number of genes and miRNAs, all focused on the 14q32 locus. Therefore, our analysis is in no way similar in scope to the (currently unpublished) global genomic investigation of osteosarcoma undertaken by the TARGET initiative.
For any global expression analysis in the Boston, Utah, and Texas datasets, variance filtering was performed excluding 33% of probes with the lowest variance for the miRNA arrays and 66% of probes with the lowest variance for mRNA arrays, before performing any genome-wide (global) analyses. MiRNA expression values were quantile normalized before being subjected to further statistical analysis. For analyses involving methylation intensity, we utilized the
M
value (a transformation of the conventional beta value) as it has been shown to possess better statistical properties for differential analysis [
48
]. Further methodological details related to processing and analyzing these data are provided in Additional file
13
.
Recurrence and survival prediction and tdROC curves
In order to avoid overfitting, we used the signed average method and leave-one-out cross-validation in all survival analyses. In this approach, we averaged the expression levels of individual miRNA features in each candidate profile, weighted only by the sign of their hazard ratio (positive or negative) in univariate Cox regression analysis, and the resulting signed averaged metric was used as the prognostic index [
49
–
51
]. Kaplan-Meier analysis with log-rank test and Cox regression were used to analyze or model recurrence and survival as necessary. In the Utah dataset, time-censored recurrence data were not available, so we used overall survival as the time-censored endpoint. Time-dependent receiver operating characteristic (tdROC) and area under the curve (AUC) analyses were performed as previously described. For the Boston dataset, the tdROC endpoint was 120 months, while for the Utah dataset, it was set to 60 months due to the shorter follow-up available in that study. Penalized multivariate Cox regression analysis was performed as previously described [
52
].
Class comparison, gene set enrichment, and clustering
Two-class comparison of continuous variables was done using the
t
test, and
p
values were corrected with the Benjamini-Hochberg FDR test while the Mann-Whitney test was used for non-parametric two-class continuous variable comparisons. In the case of testing a small number of variables based on prespecified hypotheses, we present unadjusted univariate
p
values. Univariate two-sided
p
values <0.05 were considered significant, except in some exploratory analyses in cell lines involving a limited number of preselected methylation and expression probes, where we also report associations at a
p
 < 0.1 as suggestive of biologic inference. When examining the proposed molecular tumor subtypes, not previously established in the literature, we generated 100 random splits of the samples and considered that the expression differences between the proposed subtypes are significant if less than 5% of the random splits showed the same degree of differential expression as the proposed subtypes. We performed gene set analysis using the KS/LS statistic to determine if the expression profiles of the high- and low-risk groups were enriched for gene sets or miRNA targets of interest, according to the functional class scoring method [
53
]. Unsupervised hierarchical clustering was performed with the average linkage method as previously described [
54
]. We also used multidimensional scaling to construct 3-D representation of sample locations in the multivariate expression space.
Standard biostatistical tests
We explored categorical associations using 2 × 2 tables and Fisher's exact test. Spearman rank correlation was used to determine the association between continuous variables. The hypergeometric distribution test was used to assess significance of the overlap between two miRNA lists. All reported
p
values are two-sided.
Chromosomal coordinates for methylation site localization and CTCF and enhancer binding site identification
Data plots showing gene coordinates and CpG island frequencies were plotted using Circos [
55
]. Chr14q32 was defined as the region between the co-ordinates 89,800,000 and 109,000,000 on chromosome 14. The location of genes, non-coding RNA, and miRNAs within these co-ordinates were derived from UCSC hg19 gene annotation tables. UCSC bed file annotations of CpG island locations in hg19 were used to determine CpG island location. CPG frequency was determined by counting the number of CpG islands within 100,000 bp upstream a given location. CTCF binding sites in
MEG3
were determined in previous studies [
16
,
17
]. These sites were cross-referenced with the University of Tennessee CTCF binding site database, which includes data from the UCSC genome browser and the Broad Institute [
56
]. Search for enhancer sites was performed using the VISTA Enhancer Browser (Lawrence Berkeley National Laboratory) as previously described [
33
].
MiRNA regulatory network analysis and drug-gene interaction screen
We used a method called PUMA (PANDA using MicroRNA Associations, Kuijjer et al., in preparation). This is a network reconstruction algorithm that models gene regulation by miRNAs and transcription factors and is an extension of our previously published network reconstruction method PANDA [
19
], which uses message passing between regulatory, protein-protein interaction, and gene expression data to model information flow between regulators and their target genes. PUMA extension works similar to PANDA, but in the message-passing steps does not allow microRNAs to form edges in the protein-protein interaction network, thereby indirectly influencing microRNA-target gene edges. We reconstructed networks for both subtypes and generated a set of "background" permuted networks to estimate edge significance (defined as activity score outside the four standard deviation range of the background distribution. Details are provided in Additional file
14
, and implementation of the PUMA algorithm is available at
https://​github.​com/​mararie/​PUMA
. For drug target identification, we utilized the Drug Gene Interaction Database (DGIdb) as previously described [
57
].
Bioinformatics/biostatistics analysis software
We used the NCI BRB-ArrayTools software (developed by Dr Richard Simon and the BRB-ArrayTools Development Team) and the SPSS software, version 18 (IBM Corporation, NY).
Acknowledgements
Results published here are in part based upon data generated by the Therapeutically Applicable Research to Generate Effective Treatments (TARGET) initiative managed by the NCI. Information about TARGET can be found at
http://​ocg.​cancer.​gov/​programs/​target
. Specifically, we wish to acknowledge the Children's Oncology Group (COG) for collecting the tissues for TARGET as part of COG clinical and biological protocols (Peter C. Adamson, MD, Children's Hospital of Philadelphia, Philadelphia, PA, USA) and the principal investigators for the Osteosarcoma project (Ching Lau, MD, PhD, Texas Children's Hospital, Houston, TX, USA; Paul Meltzer, MD, PhD, National Cancer Institute, National Institutes of Health, Bethesda, MD, USA).
We also wish to thank Dr Yidong Chen (University of Texas Health Science Center at San Antonio) for assistance in the use of the osteosarcoma data generated by her group (GEO accession CSE79181).
Funding
This study was supported by National Cancer Institute grant 1R01CA178908 to DS and grant 1R35CA197449 to JQ. BHK was supported by the Gattuso-Slaight Personalized Cancer Medicine Fund at Princess Margaret Cancer Centre, the Cancer Research Society (Canada), Ministry of Economic Development, Employment and Infrastructure and the Ministry of Innovation of the Government of Ontario, and the Canadian Institutes of Health Research. DS and EC wish to acknowledge the generous support of Wendell Colson and Joanne Casper to the MGH Sarcoma Research Program.
The funders had no role in the study design, data collection and analysis, decision to publish, or preparation of the manuscript.
Availability of data and materials
Authors' contributions
KEH, ADK, and DS conceived the study. KEH, ADK, MLK, WB, AR, CG, HK, JG, APA, and DS performed the studies and analyzed the data. KEH, ADK, MLK, WB, AR, CG, HK, KJ, MCG, MSA, GC, FH, EC, ZD, JQ, BHK, and DS wrote the manuscript. All authors read and approved the final manuscript.
Competing interests
The authors declare that they have no competing interests.
Consent for publication
Not applicable.
Ethics approval and consent to participate
All data were obtained from publicly available datasets. Ethics approval prior to performance of the previously published studies had been previously obtained at all participating institutions.
Publisher's Note
Springer Nature remains neutral with regard to jurisdictional claims in published maps and institutional affiliations.
Open Access
This article is distributed under the terms of the Creative Commons Attribution 4.0 International License (
http://​creativecommons.​org/​licenses/​by/​4.​0/​
), which permits unrestricted use, distribution, and reproduction in any medium, provided you give appropriate credit to the original author(s) and the source, provide a link to the Creative Commons license, and indicate if changes were made. The Creative Commons Public Domain Dedication waiver (
http://​creativecommons.​org/​publicdomain/​zero/​1.​0/​
) applies to the data made available in this article, unless otherwise stated.