05.12.2018 | Head & Neck | Ausgabe 2/2019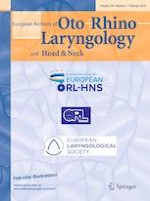 An original procedure for orbitonasal cutaneous infiltrative tumor repair, using combined forehead and melolabial propeller flaps
Zeitschrift:
Autoren:

Clair Vandersteen, Dorian Culié, Olivier Dassonville, Alexandre Bozec, Nicolas Guevara, Charles Savoldelli, Gilles Poissonnet
Abstract
Introduction
Resections of cutaneous tumors in the medial orbitonasal region can be transfixing. Repairs using a single local flap run the risk of failure and that of secondary sinonasal fistula, especially in cases of surgery on a radiated field. We propose an original and reliable repair procedure using two pedicled regional flaps vascularized by two distinct arterial systems clinched together to reconstruct the mucosal and cutaneous planes.
Materials and methods
A first melolabial propeller flap (MPF) with a superior perforating pedicle was elevated and the cutaneous side was sutured to the deep plane of the loss of substance (mucosal lining). A second homolateral or contralateral paramedian forehead flap (PFF) was then lifted and sutured over the first flap (superficial plane). The forehead pedicle flap was divided at 1 month.
Results
No trophic complication or failure was recorded on two patients. The 7-year carcinologic, aesthetic, and functional results were satisfying.
Conclusion
This technique involving the superimposition of two local flaps, vascularized by two different arterial systems, appears to offer a simple and reliable repair technique for transfixing cutaneous losses of substance in the medial orbitonasal region. It could be used in the first-line treatment, particularly if an additional radiotherapy is to be performed.