13.12.2017 | Original Article | Ausgabe 2/2018 Open Access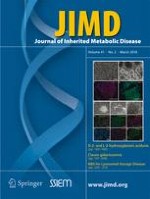 An overview of combined D-2- and L-2-hydroxyglutaric aciduria: functional analysis of CIC variants
Zeitschrift:
Autoren:

Ana Pop, Monique Williams, Eduard A. Struys, Magnus Monné, Erwin E. W. Jansen, Anna De Grassi, Warsha A. Kanhai, Pasquale Scarcia, Matilde R. Fernandez Ojeda, Vito Porcelli, Silvy J. M. van Dooren, Pascal Lennertz, Benjamin Nota, Jose E. Abdenur, David Coman, Anibh Martin Das, Areeg El-Gharbawy, Jean-Marc Nuoffer, Branka Polic, René Santer, Natalie Weinhold, Britton Zuccarelli, Ferdinando Palmieri, Luigi Palmieri, Gajja S. Salomons
Wichtige Hinweise
Communicated by: Sander M. Houten
Electronic supplementary material
Luigi Palmieri and Gajja S. Salomons contributed equally to this work.
Introduction
Materials and methods
Patients, clinical and biochemical data
Inclusion criteria for this study were the presence of
SLC25A1
variants and combined D/L-2-HGA; 26 individuals were evaluated. Clinical data was collected from referring physicians using questionnaires. For previously published case reports (Muntau et al.
2000
; Read et al.
2005
; Edvardson et al.
2013
; Chaouch et al.
2014
; Mühlhausen et al.
2014
; Prasun et al.
2015
; Smith et al.
2016
), data was completed by two of our authors (MW, AP) based on published information. No clinical data could be obtained for patient nos. 2 and 26 (sibling of patient no. 3). The D/L-2-HGA biochemical diagnosis was, in most cases (
N
= 22), established by our laboratory using liquid chromatography tandem mass spectroscopy (LC-MS/MS) measurements of D-2-HG and L-2-HG in urine, as previously described (Struys et al.
2004
), or the information was collected via questionnaires (
N
= 1) or from literature (
N
= 3; two of three were reported not to have increased urinary D-2-HG and L-2-HG) (Chaouch et al.
2014
).
Genetic testing
For seven of the unpublished D/L-2-HGA-affected individuals, all exons and adjacent splice sites of the
SLC25A1
coding region were amplified by polymerase chain reaction (PCR), as previously described (Nota et al.
2013
). Sequencing analysis was performed using an ABI 3130xl genetic analyzer (Applied Biosystems, Nieuwekerk a/d Ijssel, NL), and data was interpreted using Mutation Surveyor (Softgenetics, PA, USA). Whole-exome sequencing, followed by direct Sanger sequencing, resulted in the genetic diagnosis in another affected individual.
Construction of the expression vector and site-directed mutagenesis to introduce missense variants
The coding sequence of the
SLC25A1
gene was recloned from pCMV6-AC-GFP (Origene, Rockville, MD, USA) into the pEGFP-N1 vector (Clontech). Subsequently, the enhanced green fluorescent protein (EGFP) was removed from the vector, as it interfered with protein function. For each of the 17 missense mutations included in this study, recombinant plasmids were generated by site-directed mutagenesis, as previously described (Betsalel et al.
2012
). Successful mutagenesis and absence of PCR artifacts was confirmed by full-length sequencing of the
SLC25A1
coding sequence.
Restoration of the primary defect and overexpression studies
SLC25A1
−/−
fibroblasts from patient 9, homozygous for c.18_24dup; p.Ala9Profs*82 mutation, were transfected with wild-type
SLC25A1
(wt), empty vector or mock transfected, by electroporation using 4D–Nucleofector™ system and P2 primary cell kit (Lonza, Cologne, Germany), following the manufacturer's guidelines. Thereafter, the 17
SLC25A1
constructs were transiently transfected in
SLC25A1
−/−
fibroblasts using 1.5 million cells per condition. The pEGFP-N1 was cotransfected with the CIC-expressing vectors (with or without the introduced variants) in a ratio of 1 to 100. All experiments were performed in triplicate.
Functional studies
Twenty-four hours after transfection, cells were incubated for 48 h with Dulbecco's modified Eagles medium (DMEM) enriched with [U-
13
C
6
] glucose. Thereafter, culture media and cell pellets were collected and stored at −20 °C and −80 °C, respectively. To assess restoration of the CIC function in wild-type transfectants and activity of mutated proteins, [
13
C
2
] citrate levels in cell culture media of transfected fibroblasts were used, as previously described (Nota et al.
2013
). The percentage of residual CIC activity is expressed to the activities of wild-type transfectants, which were arbitrarily set at 100% in each experiment.
Confirmation of successful transfection by Western blotting
Transfected cells were subjected to sodium dodecyl sulfate polyacrylamide gel electrophoresis (SDS-PAGE) and Western blot analysis. First, cells were lysed in urea lysis buffer (8 M urea, 100 mM NaCl, 10 mM Tris-HCl, pH 8.0) and sheared through an insulin syringe needle for DNA disruption. Protein content was determined using a bicinchoninic acid protein assay (Sigma-Aldrich, St Louis, MO, USA). Proteins (17 μg) were size-separated in a 12% NuPAGE® Bis-Tris precast gel (Invitrogen, Carlsbad, CA, USA) and transferred to a polyvinylidene fluoride (PVDF) membrane using the iBlot® Dry Blotting System (Invitrogen). Immunodetection of the SLC25A1 protein was carried out using rabbit polyclonal anti-SLC25A1 primary antibody (Proteintech, 15,235–1-AP), polyclonal goat anti-rabbit immunoglobulins/horseradish peroxidase (HRP) secondary antibody (Dako, P 0448) and enhanced chemiluminescent substrates (Lumi-Light plus Western blotting substrate; Roche Applied Science, Indianapolis, IN, USA). Images were acquired with the ChemiDoc MP imager (Bio-Rad Laboratories) and analyzed using Image Lab software. Actin was used as an internal loading control.
Residue-specific scores of mutated residues
Using the scoring systems developed by Pierri et al.
2014
, functional and/or structural importance of mutated residues was evaluated. The residue-specific score (RS) estimates the strength of the evolutionary selection on each amino acid residue of an individual mitochondrial carrier. Considering all 216 residues previously scored for SLC25A1 (Pierri et al.
2014
), a residue with an RS > 4.68 is above the median value and therefore considered functionally and/or structurally important in the human CIC. A transversal score (TS) was calculated by averaging the 53 residue-specific scores corresponding to equivalent positions identified by the multialignment of the 53 members of the human mitochondrial carrier protein family (MCF), using the
Bos taurus
protein BtAAC1 structure as reference. A residue with a TS > 3.79 is above the median value and considered functionally and/or structurally important in the common MCF structure and transport mechanism.
Results
Discussion
We present an overview of the clinical phenotypes of 26 genetically diagnosed D/L-2-HGA patients, including eight novel cases. To make a first prediction for clinical outcome, we classified patients into three groups based on their phenotype and genotype, as described in the "
Results
" section: (1) two severe alleles (with < 25% residual activity), (2) one severe and one mild allele, and (3) two mild alleles. The importance of mutated residues is evaluated using the scoring system developed by Pierri et al. and by the newly developed functional studies.
A detailed discussion on the different mutations and their activities and classification in the three groups is provided in the supplementary data (Palmieri et al.
2011
; Ruprecht et al.
2014
; von Heijne
1996
).
This study provides a first observation that a genotype–phenotype correlation exists in this small cohort of patients with D/L-2HGA. Lack of residual SLC25A1 transporter activity (severe missense mutation or truncating mutation) is likely to contribute to a severe disease presentation associated with early death. We also noted a strong positive correlation between extensive medical care and increased life expectancy, irrespective of type of mutation/residual activity. This may partly be explained by altering the natural history of the disease by preventing apneic episodes, aspiration risk, and respiratory arrest by ventilation support and improving metabolic status by improved nutrition through g-tube feeding. It is of interest to note that there is an alternative route for citrate production in the cytoplasm by reductive carboxylation (Jiang et al.
2016
), which may explain the presence of some residual citrate levels. However, this is apparently not sufficient to prevent illness. Identifying functionally important residue positions in MC by RS, introduced by Pierri et al.
2014
, has proven to be very valuable in classifying missense mutations in CIC (Table
2
). All mutated residues with RSs below the threshold value correspond to mutant proteins with considerable residual activity (p.Ala28Thr, p.Arg247Gln and p.Ile40Asn). However, there is no direct relationship between RS above the threshold and the level of transport activity of a mutated protein, because their activity not only depends on the structural/functional importance of the original residue but also on the kind of substitution: changes in side-chain size, charge, etc. Nevertheless, RSs > 5.6 are associated with mutant proteins with a very low residual activity (≤11% of wild type).
It should be noted that our study has some limitations. First, our functional assay is a steady-state measurement of [
13
C
2
] citrate accumulation in extracellular medium after prolonged culture with [U-
13
C
6
] glucose and is an indirect activity measurement, most likely overestimated, and proxy of actual citrate transport activity of a single allele across the inner mitochondrial membrane
in vivo
. Second, our assay cannot simultaneously measure the activity of two alleles, meaning that it does not allow us to mimic compound heterozygous patients, where the degree of CIC functional deficiency is the result of the contribution of both alleles. Although it is not known whether increased expression levels of both or one allele in cells of compound heterozygous patients might in part compensate for low-activity mutant proteins, activity in these cells can be estimated by averaging the activity levels measured separately for both alleles. By doing so, we observed that in the case of compound heterozygosity also, an
in vitro
activity < 25% of wild-type transfectants can be associated with a more severe phenotype (Table
2
).
In conclusion, our newly developed functional assay can be used, together with structural data and residue-specific scores, as an assisting tool for interpreting new missense variants and may be of added value for physicians in counseling parents of patients with (missense) variants in CIC.
Acknowledgments
The authors acknowledge Prof. Ivo Baric (School of Medicine, University of Zagreb, Croatia), Dr. Chris Mühlhausen (University Medical Center Hamburg-Eppendorf, Germany) and Dr. Laurie Smith (The University of North Carolina, School of Medicine, USA), as well as all other clinicians and biochemists involved in the diagnosis of this patient cohort.
Compliance with ethical standards
Conflict of interest
A. Pop, M. Williams, E. A. Struys, M. Monné, E. E. W. Jansen, A. De Grassi, W. A. Kanhai, P. Scarcia, M. R. Fernandez Ojeda, V. Porcelli, S. J. M. van Dooren, P. Lennertz, B. Nota, J. E. Abdenur, D. Coman, A. M. Das, A. El-Gharbawy, J. M. Nuoffer, B. Polic, R. Santer, N. Weinhold, B. Zuccarelli, F. Palmieri, L. Palmieri, G. S. Salomons declare that they have no conflict of interest.
Open Access
This article is distributed under the terms of the Creative Commons Attribution 4.0 International License (http://creativecommons.org/licenses/by/4.0/), which permits unrestricted use, distribution, and reproduction in any medium, provided you give appropriate credit to the original author(s) and the source, provide a link to the Creative Commons license, and indicate if changes were made.