01.12.2019 | Review | Ausgabe 1/2019 Open Access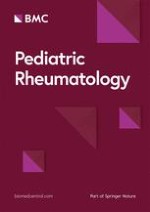 An unprecedented COPA gene mutation in two patients in the same family: comparative clinical analysis of newly reported patients with other known COPA gene mutations
Zeitschrift:
Autoren:

Anjali Patwardhan, Charles H. Spencer
Wichtige Hinweise
Publisher's Note
Springer Nature remains neutral with regard to jurisdictional claims in published maps and institutional affiliations.
Abstract
Introduction
The COPA syndrome is a newly recognized monogenic, autosomal dominant autoimmune disease presenting mostly presenting in childhood. Clinical features include inflammation of the lungs, kidneys, and joints. Approximately twenty-six patients with COPA syndrome worldwide have been investigated all originating from eight families. Patients with this syndrome exhibit heterozygous monogenic missense mutations in the WD40 domain. This domain is a functionally-significant area of the alpha subunit of coatomer-associated protein (COPα) which encodes the coat protein complex I (COPI). The COPI dysfunction is also associated with autoantibody expansion. We report two patients with COPA syndrome.
Methods
All testing and molecular genetic analysis were performed after obtaining the informed consent of both the patient and parents. A retrospective chart review was carried out on both the patients. Demographic, clinical and laboratory findings were abstracted from outpatient and inpatient encounters. Pulmonary function tests (PFTs), chest computed tomography (CT) scans, and lung biopsy histopathology reports were also reviewed and summarized.
Results
The index case and the father of the child both demonstrated a unique inflammatory pulmonary, arthritis, and renal disease triad starting in early childhood including pulmonary hemorrhage. The two patients had a novel COPA mutation previously undescribed.
Conclusions
To date, only four pathological, genetic mutations have been reported that are compatible with COPA syndrome. We here report two patients with COPA syndrome within the same family with a novel COPA gene mutation different than the heterozygous monogenic missense mutations in the WD40 domain and distinct from the clinical phenotypes reported in the literature so far.