01.12.2018 | Case report | Ausgabe 1/2018 Open Access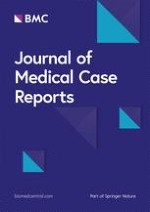 An unusual finding in a desmoid-type fibromatosis of the pancreas: a case report and review of the literature
Zeitschrift:
Autoren:

Joseph Clarence Torres, Chen Xin
Abstract
Background
Desmoid-type fibromatoses are rare benign and fibrous tumors that account for approximately 0.03% of total neoplasms. Within this category of neoplasms, pancreatic desmoid-type fibromatosis is an extremely rare subgroup, accounting for approximately 5% of desmoid-type fibromatoses. Although the etiology is unknown, some risk factors include trauma, surgery, family history of desmoid tumor, pregnancy, use of contraceptives, genetic mutation, and familial adenomatous polyposis or Gardner syndrome. Desmoid-type tumors are primarily diagnosed by pathological and immunohistochemical studies. The treatment of choice is surgical resection of the tumor. Systemic chemotherapy and radiotherapy are optional treatment approaches for patients with high risk for surgery.
The following is a report of an unusual case of a pancreatic desmoid-type fibromatosis in which a very rare variation in the immunohistochemistry findings was demonstrated: slides were immunopositive for S100 protein and not immunonegative. Most desmoid tumors are immunonegative for S100 protein with just a few cases being positive for this protein.
Case presentation
We describe the case of a 15-year-old boy, a Chinese national, who was diagnosed as having a pancreatic desmoid-type fibromatosis. He was a healthy individual who was incidentally diagnosed with an abdominal mass. His chief complaints were mild generalized abdominal pain for 1 week, nausea, vomiting, and a low-grade fever. An enhanced computed tomography scan of his abdomen showed a large cystic mass in the anterior surface of the body of his pancreas. He underwent a radical resection of the pancreatic mass, partial pancreatectomy, splenectomy, segmental resection of transverse colon and distal jejunum, and subsequently a one-stage jejunojejunostomy and colonic anastomosis. Postoperatively, he was diagnosed as having a desmoid-type fibromatosis of the pancreas by pathological and immunohistochemical studies.
Conclusions
The diagnosis of desmoid-type fibromatosis is usually incidental and challenging. Pathological and immunohistochemical testing are essential for confirming diagnosis where demonstration of β-catenin nuclear staining is probably the single most important characteristic. Other markers, such as vimentin, are usually positive, while S100 protein is usually negative. Our case however, confirms that there are rare cases that can be S100 positive. This is the first diagnosed case of pancreatic desmoid-type fibromatosis with S100 protein positivity.