01.12.2010 | Original Article | Ausgabe 6/2010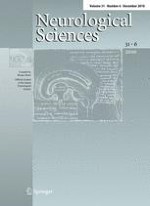 Analysis of association between bleomycin hydrolase and apolipoprotein E polymorphism in Alzheimer's disease
Zeitschrift:
Autoren:

Mohamed Ali Smach, Bassem Charfeddine, Turkia Lammouchi, Leila Ben Othman, Afef Letaief, Souhir Nafati, Hedi Dridi, Soufien Bennamou, Khalifa Limem
Abstract
Alzheimer's disease (AD) is the leading cause of dementia. Several studies indicate a possible relationship between different genes and Alzheimer's disease. To further investigate, we have analyzed the association between the bleomycin hydrolase (BLMH) and apolipoprotein E (ApoE) polymorphisms in 93 AD patients and age- and sex-matched 113 controls from the Tunisian population. The frequency of ApoE epsilon 4 allele was found to differ significantly in AD patients compared to the control [29.5% vs. 8.8 (
χ
2
= 26,
df
= 1,
p
< 0.001)] leading to an increased risk of AD in subjects with this allele (OR = 3.29, 95% CI = 1.7–6.5;
p
= 0.001]. This risk was found to decrease from OR = 8.4, CI = 3.3–23;
p
< 0.001 in subjects less than 75 years old to OR = 1.2, CI = 1.031–14;
p
= 0.0297 in subjects 75 years and older. No association was observed between carrying the BLMH-G genotype and AD in ε4 negative or positive subjects.