09.03.2021 | Original Paper | Ausgabe 6/2021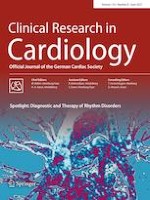 Analysis of causes of death in patients with implanted defibrillators
Zeitschrift:
Autoren:

Herbert Nägele, Eike Gröene, Daniel Stierle, Matthias P. Nägele
Wichtige Hinweise
Supplementary Information
Abstract
Aims
Implantable cardioverter defibrillators (ICDs) are used for primary or secondary prevention of sudden cardiac death. We sought to clarify prognosis and causes of death after ICD implantation.
Methods and results
A total of 2743 patients with ICDs implanted during 1990–2020 were analyzed. Median age was 68.5 (59.6–74.6) years; 21% women, median left ventricular ejection fraction (LVEF) was 30 (23–35), 52% had an ischemic etiology and 77% had a primary preventive indication. Mortality rate after 10 years was 22, 44, 55, and 72% in the 1st, 2nd, 3rd, and 4th age quartile, respectively. The calculated median sex and age adjusted loss of life years compared to the average German population was 9.7 (6.1–14.0) years. Prognosis was independently related to sex, age, LVEF, and glomerular filtration rate. 713 out of 852 deaths could be classified to a specific cause. Congestive heart failure (CHF) accounted for death in 214 (30%) and sudden death (SD) for 144 patients (20%). Postmortem interrogation of devices in 74 patients revealed VT/VF in 39 and no episodes in 35 patients. Cancer was identified as the cause of death in 121 patients (17% of cases), of which 36 were bronchial carcinomas. 73 (10%) of patients died due to infection. 67 patients (9%) died within 24 h of procedures. Compared to other causes, significantly more life years were lost associated with procedures and SD: 9.3 (5.7–12.9) versus 12.1 (7.4–15.2) and 11.9 (7.6–17.8) years.
Conclusion
Life expectancy of ICD patients is lower than for the general population. Mortality is predominantly due to CHF, but there is still a considerable rate of SD. The occurrence of cancers, most importantly bronchial carcinomas, and infections, warrants protective measures. Some deaths during procedures are possibly preventable. Patients with ICDs comprise a vulnerable cohort, and treatment has to be optimized in many directions to improve prognosis.
Graphic abstract
×