01.12.2014 | Research article | Ausgabe 1/2014 Open Access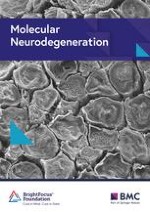 Analysis of
COQ2

gene in multiple system atrophy
Zeitschrift:
Autoren:

Kotaro Ogaki, Shinsuke Fujioka, Michael G Heckman, Sruti Rayaprolu, Alexandra I Soto-Ortolaza, Catherine Labbé, Ronald L Walton, Oswaldo Lorenzo-Betancor, Xue Wang, Yan Asmann, Rosa Rademakers, Neill Graff-Radford, Ryan Uitti, William P Cheshire, Zbigniew K Wszolek, Dennis W Dickson, Owen A Ross
Wichtige Hinweise
Electronic supplementary material
The online version of this article (doi:
10.​1186/​1750-1326-9-44
) contains supplementary material, which is available to authorized users.
Competing interests
The authors declare that they have no competing interests.
Authors' contributions
KO carried out the molecular genetic studies and drafted the manuscript. MGH, SR, AIS-O, CL, RLW, OLB, XW and YA carried out the molecular genetic studies and data analysis. MGH performed all statistical analysis. SF, NG-R, RU, RR, WPC, ZKW and DWD made substantial contributions to acquisition of patient material and data. OAR conceived of the study, obtained study funding, participated in its design and coordination and drafted the manuscript. All authors participated in the interpretation of results, read and approved the final manuscript.
Abstract
Background
Loss of function
COQ2
mutations results in primary CoQ10 deficiency. Recently, recessive mutations of the
COQ2
gene have been identified in two unrelated Japanese families with multiple system atrophy (MSA). It has also been proposed that specific heterozygous variants in the
COQ2
gene may confer susceptibility to sporadic MSA. To assess the frequency of
COQ2
variants in patients with MSA, we sequenced the entire coding region and investigated all exonic copy number variants of the
COQ2
gene in 97 pathologically-confirmed and 58 clinically-diagnosed MSA patients from the United States.
Results
We did not find any homozygous or compound heterozygous pathogenic
COQ2
mutations including deletion or multiplication within our series of MSA patients. In two patients, we identified two heterozygous
COQ2
variants (p.S54W and c.403 + 10G > T) of unknown significance, which were not observed in 360 control subjects. We also identified one heterozygous carrier of a known loss of function p.S146N substitution in a severe MSA-C pathologically-confirmed patient.
Conclusions
The COQ2 p.S146N substitution has been previously reported as a pathogenic mutation in primary CoQ10 deficiency (including infantile multisystem disorder) in a recessive manner. This variant is the third primary CoQ10 deficiency mutation observed in an MSA case (p.R387X and p.R197H). Therefore it is possible that in the heterozygous state it may increase susceptibility to MSA. Further studies, including reassessing family history in patients of primary CoQ10 deficiency for the possible occurrence of MSA, are now warranted to resolve the role of
COQ2
variation in MSA.