08.04.2019 | Original Paper | Ausgabe 5/2019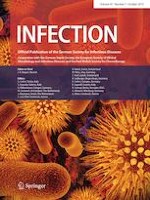 Analysis of hepatitis B virus-mixed genotype infection by ultra deep pyrosequencing in Sudanese patients, 2015–2016
Zeitschrift:
Autoren:

Khalid Abdallah Enan, Claudia Minosse, Abdel Rahim Mohammed El Hussein, Marina Selleri, Emanuela Giombini, Maria Rosaria Capobianchi, Isam Mohamed Elkhidir, Mohamed Omer Mustafa, Osama Mohamed Khair, Dina Ahamed Hassan, Anna Rosa Garbuglia
Wichtige Hinweise
Electronic supplementary material
Khalid Abdallah Enan and Claudia Minosse contributed equally to this work.
Abstract
Purpose
The frequency of detection of HBV co-infection with multiple HBV genotypes is influenced by the detection method; usually co-infections are detected by multiplex PCR or hybridization assays, and are rarely confirmed by sequencing and conventional cloning. The objective of this study was to confirm by ultra-deep pyrosequencing (UDPS) mixed HBV infections, previously detected by multiplex-nested PCR.
Methods
Sixteen samples from HBV co-infected Sudanese patients detected by multiplex-nested PCR, were amplified targeting the P/S region and sequenced by UDPS.
Results
The only genotypes identified using UDPS were D and E, while A, B, C and F genotypes, previously detected by multiplex-nested PCR, were not detected. Specifically, 10 samples were shown to be mono-infected (D or E); in 3 out of 10 mono-infected D patients, a subtype combination was observed: D1 + D7 in 2 cases and D2 + D6 in 1 case. The remaining 6 subjects were D + E co-infected (harboring different mixtures of D subtypes).
Conclusions
Overall, UDPS is more effective than multiplex-nested PCR for identifying multiple HBV genotypes and subtypes infections.