01.03.2013 | Original Paper | Ausgabe 1/2013 Open Access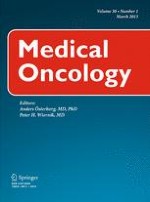 Analysis of pattern, time and risk factors influencing recurrence in triple-negative breast cancer patients
Zeitschrift:
Autoren:

Katarzyna Pogoda, Anna Niwińska, Magdalena Murawska, Tadeusz Pieńkowski
Introduction
According to ASCO guideline and the latest St Gallen consensus, triple-negative breast cancer (TNBC) occurs only if there is no expression of estrogen receptor (ER-negative), progesterone receptor (PR-negative), and there is neither expression nor amplification of human epidermal growth factor receptor 2 (HER2-negative) in a tumor [
1
,
2
]. Apart from these clinicopatological markers and classical classification of breast cancer subtypes, there are molecular gene tests, which allow dividing TNBC into two main subtypes—more common basal-like and claudin-low [
3
]. Still, molecular classification has still no influence over clinical management. TNBC accounts for about 9–21 % of all breast cancers including patients with stage I–IV breast cancer [
4
–
8
]. In the past, this rate was higher because it included cases with ER/PR less than 10 %.
TNBC patients have poorer outcomes compared with other cancer subtypes [
7
–
14
]. They are at higher risk of early recurrence, mainly in the lungs, brain, and soft tissue [
4
,
6
,
13
–
18
]. The highest risk of relapse is between the first and third year after primary treatment. In cases of recurrence, the survival is shorter than in non-TNBC patients [
9
,
13
,
14
,
19
,
20
]. However, TNBC is more sensitive to chemotherapy. The rate of pathological complete remission (pCR) after neoadjuvant chemotherapy is higher than in other breast cancer subtypes [
11
,
13
,
19
]. On the other hand, methods of the treatment in this group of patients are still limited in clinical practice because of the lack of molecular targets. The adjuvant treatment is usually recommended in TNBC and should include anthracyclines, taxanes, and an alkylating agent [
2
,
21
].
The aim of this study was to analyze recurrence pattern in order to determine the prognostic factors of recurrence and overall survival in a group of consecutive 228 TNBC patients treated at Cancer Center and Institute of Oncology in Warsaw, Poland, between the years 2005 and 2006.
Patients and methods
Patients
Medical records of 2,534 consecutive patients with newly diagnosed breast cancer between January 2005 and December 2006 were reviewed. We decided to analyze this group of patients because of similar management, and the fact that most of recurrence in TNBC patients occurs in the first 5 years after primary treatment. There were 228 TNBC patients (9 % out of all breast cancers) according to the latest recommendations [
1
,
2
], therefore, without expression of ER, PR, and HER2 receptors. We excluded 23 patients who were in the past also classified as TNBC (with expression of ER/PR receptors less than 10 %). The status of ER, PR, and HER2 was determined based on the biopsy of primary tumor. Staining was performed using primary antibodies against ER (Clone 6F11, Novocastra), PR (Clone 16, Novocastra), and HER2 (Polyclonal HercepTest, DAKO). If HER2 was 2+ by immunohistochemistry (IHC), fluorescence
in situ
hybridization (FISH; HER2 DNA Probe Kit, Vysis) was performed additionally, and if the result was only negative, patients were included to our analysis. Patients were observed until October 2011.
Statistical method
The clinicopathological characteristics were determined using descriptive statistics.
Disease-free survival was defined as the time from diagnosis of TNBC to first locoregional or distant recurrence. Overall survival was the time from TNBC diagnosis to death. DFS and OS curves were calculated using the Kaplan–Meier method. Recurrence rates were presented by cumulative hazard rates and annual hazard rates. A
p
value <0.05 was considered significant.
The univariate and multivariate analyses were developed to identify factors influencing recurrence and overall survival in TNBC patients. The following factors were analyzed in Cox model: age at diagnosis (<55 vs. ≥50), primary tumor extension (T2 vs. T1; T3 vs. T1; T4 vs. T1), lymph node involvement (N1 vs. N0; N2 vs. N0; N3 vs. N0), histological cancer type (ductal vs. lobular; ductal vs. medullar, apocrinal, papillary), result of HER2 in IHC staining (HER2 1+ vs. HER2 2+), adjuvant/neoadjuvant chemotherapy (yes vs. no).
Results
Discussion
To the best of our knowledge, this is the largest study evaluating TNBC in Poland. Recurrence rates for different sites were presented by cumulative hazard rates and annual hazard rates. However, longer time of observation is necessary to complete and verify these results, especially in terms of recurrence in different sites.
Patients and oncologists always have a dilemma on how to cope with this aggressive disease. For patients, the diagnosis of breast cancer is fearsome; so when they know additionally that they suffer from TNBC—a subtype with poor outcomes—this situation is often more stressful. We recommend that this group of patients should be offered to participate in clinical trials with novel agents.
Conclusions
TNBC patients have a unique pattern of relapse, which occurs mostly in the first 3 years following diagnosis. The most common sites of recurrence were brain and lungs. Tumor size was independent prognostic factor for prognosis, and this feature should be mainly considered in the management of TNBC patients. This group of patients should receive aggressive adjuvant therapy to prevent early recurrence or death. Further prospective clinical trials are needed to identify the most efficient therapy in order to improve survival outcomes.
Conflict of interest
The authors declare that they have no conflict of interest.
Open Access
This article is distributed under the terms of the Creative Commons Attribution License which permits any use, distribution, and reproduction in any medium, provided the original author(s) and the source are credited.