01.12.2017 | Research article | Ausgabe 1/2017 Open Access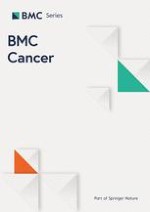 Analysis of prognostic factors in patients with newly diagnosed diffuse large B-cell lymphoma and skeletal involvement
Zeitschrift:
Autoren:

Nicola Lehners, Isabelle Krämer, Maral Saadati, Axel Benner, Anthony D. Ho, Mathias Witzens-Harig
Abbreviations
CHOP
Cyclophosphamide, doxorubicin, vincristine, and prednisolone
DLBCL
Diffuse large b-cell lymphoma
ECOG
Eastern Cooperative Oncology Group
FLIPI
Follicular lymphoma international prognostic index
IPI
International prognostic index
MIPI
Mantle cell lymphoma international prognostic index
PFS
Progression-free survival
R-CHOP
Rituximab, cyclophosphamide, doxorubicin, vincristine, and prednisolone
Background
Lymphoma of the bone is a rare entity which encompasses less than 1% of all non-Hodgkin lymphoma [
1
]. Its most common histologic subtype is diffuse large b-cell lymphoma (DLBCL) [
2
,
3
] with about 50% showing a GCB-phenotype [
4
,
5
]. Clinically, lymphoma of the bone can be classified into three different forms: primary bone lymphoma which consists of a single bone lesion but may involve regional lymph nodes, polyostotic lymphoma which shows multifocal skeletal lesions, and disseminated lymphoma with secondary bone involvement [
6
].
In regard to prognostic influence, involvement of multiple extranodal sites in lymphoma is generally regarded a risk factor, as reflected in the international prognostic index (IPI) [
7
,
8
]. However, there is few data assessing the prognostic impact of specific extranodal sites or comparing outcome between different extranodal sites [
9
,
10
] and even less on prognostic factors within a particular entity, such as lymphoma with skeletal involvement (SI).
In DLBCL, therapy with R-CHOP (rituximab, cyclophosphamide, doxorubicin, vincristine, prednisolone) is commonly seen as standard of care [
11
]. Prospective clinical trials optimizing treatment specifically for patients with DLBCL and SI are lacking. Several retrospective analyses see an advantage for combining chemotherapy and radiation treatment [
12
–
14
]. Recently, a large meta-analysis of patients with DLBCL and SI treated with CHOP/R-CHOP showed a survival benefit for additional radiotherapy [
15
]. To the authors' knowledge there is no published data so far regarding whether intensification of chemotherapy might be beneficial.
In this retrospective analysis, we evaluate the clinical course and treatment strategy of patients with newly diagnosed DLBCL and SI presenting to the University of Heidelberg between 2000 and 2011 with a focus set on the identification of factors particularly relevant for the prognosis of this specific population as well as the impact of different first-line treatment modalities.
Methods
The clinical database of the University of Heidelberg was reviewed for patients with DLBCL treated at our institution between January 2000 and December 2011. Patients showing SI at first diagnosis were identified and included in this analysis. Presence of SI was determined by means of CT scans. Data on age, sex, Ann Arbor stage, Eastern Cooperative Oncology Group (ECOG) performance status, number of extranodal sites, uni- vs. multifocal SI, serum lactate dehydrogenase (LDH), serum calcium and serum alkaline phosphatase (AP) levels before therapy as well as treatment modalities and outcome were obtained by inspection of medical charts. Progression-free survival (PFS) was defined as time from first diagnosis to the first documentation of progressive disease or death from any cause. Overall survival (OS) was calculated as time from first diagnosis to death from any cause. OS and PFS were estimated using the Kaplan Meier method. Patients lost to follow-up were censored at the time of last follow-up. The impact of the variables cited above on PFS and OS was assessed by univariate regression models after single imputation of missing values. A Cox proportional hazards was used to model PFS and OS in the statistical software R, version 3.0.2. Median follow-up time was calculated using reverse Kaplan-Meier. Furthermore, multivariate proportional hazards regression models were calculated to identify prognostic factors. In all tests,
p
-values < 0.05 were considered statistically significant. This retrospective analysis was approved by the local ethics committee of the University of Heidelberg.
Results
Discussion
In this retrospective analysis of patients with newly diagnosed DLBCL with SI, we found an overall favorable outcome with a 3-year OS of 83% and 3-year PFS of 73%. However, patients with Ann Arbor stage IIIE-IVE, hypercalcemia, or no. of extranodal sites > 3 had a significantly inferior survival. Evaluation of the impact of first-line treatment modalities revealed that while consolidative radiotherapy had a positive influence towards prolonged OS, intensification of chemotherapy had no significant impact on survival. However, this analysis was not powered to detect a benefit of intensification of chemotherapy on survival.
In our cohort of patients with DLBCL and SI, the IPI was able to distinguish between different risk groups. However, our risk factor analysis found a different set of variables to have significant impact on survival. These results suggest that for this particular disease entity an improved and more specifically applicable risk score might be achieved. Yet, in our small patient cohort, no newly adapted score could be shown to be superior to the standard IPI in internal validation. Therefore, the development of a specific prognostic score for patients with DLBCL and SI should be attempted in future studies on larger populations.
As a retrospective study this analysis has a number of limitations. The major drawback may be the relatively small number of patients limiting statistical power. This is in part due to the rareness of this particular lymphoma as well as to the fact that this is a single center experience. Furthermore, therapy was not homogenous in the entire study population, as a large time period was covered and treatment options were chosen mostly at the physician's discretion. To address these difficulties, larger multicenter studies on prognostic factors and therapeutic strategies in this lymphoma entity would be desirable.
Conclusions
In conclusion, we could show that while patients with DLBCL and SI show a generally favorable outcome, Ann Arbor stage IIIE/IVE, no. of extranodal sites > 3 and hypercalcemia were significantly associated with inferior survival in this cohort. Regarding first-line treatment modalities, escalation of CHOP-like chemotherapy to a more aggressive regimen had no impact on survival while consolidative radiotherapy was associated with prolonged PFS and OS. The latter might be especially relevant for patients in advanced stage or with aggressive disease, e.g. presenting with hypercalcemia. Therefore, exact assessment of the individual prognosis of patients even within rare lymphoma entities is essential in order to allow for individualized therapy.
Acknowledgments
We thank all patients and their families for their participation in this study.
Funding
No specific funding was obtained for this study.
Availability of data and materials
The patients' data underlying this clinical analysis will not be made publicly available in order to protect the privacy of the patients and their families.
Authors' contributions
NL, IK, AH and MW were responsible for conception and design of the study; MS and AB performed the statistical analyses; all authors were involved in the interpretation of the data and the drafting of the manuscript. All authors read and approved the final manuscript.
Competing interests
The authors declare that they have no competing interests.
Consent for publication
Not applicable.
Ethics approval and consent to participate
This retrospective study was approved by the University of Heidelberg's ethics committee.
Open Access
This article is distributed under the terms of the Creative Commons Attribution 4.0 International License (
http://​creativecommons.​org/​licenses/​by/​4.​0/​
), which permits unrestricted use, distribution, and reproduction in any medium, provided you give appropriate credit to the original author(s) and the source, provide a link to the Creative Commons license, and indicate if changes were made. The Creative Commons Public Domain Dedication waiver (
http://​creativecommons.​org/​publicdomain/​zero/​1.​0/​
) applies to the data made available in this article, unless otherwise stated.