20.01.2020 | Original Research Article | Ausgabe 1/2020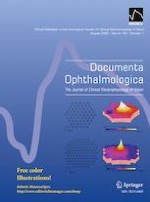 Analysis of retinal structure and function in cone dystrophy with supernormal rod response
Zeitschrift:
Autoren:

Ehab Abdelkader, Z. H. Yasir, Abdullah M. Khan, Osama Raddadi, Rajiv Khandekar, Nayef Alateeq, Sawsan Nowilaty, Najah AlShahrani, Patrik Schatz
Wichtige Hinweise
Publisher's Note
Springer Nature remains neutral with regard to jurisdictional claims in published maps and institutional affiliations.
Abstract
Purpose
To report the clinical and electrophysiological features of cone dystrophy with supernormal rod response (CDSRR).
Methods
Retrospective cohort study of 15 unrelated patients (nine males and six females, median age 16, range 5–47 years) diagnosed with CDSRR by clinical examination, full-field electroretinography (ERG) and genetic testing.
Observations
History, ophthalmic examination including near vision, color vision and contrast sensitivity assessment, multimodal retinal imaging and ERG. Genetic testing was done for all patients using next-generation sequencing.
Results
The rate of consanguinity was 86.7%. Color vision was defective in 56.3%. Near vision was defective in all patients (mean 20/160). Contrast sensitivity was affected in all patients at low contrast of 2.5%. A parafoveal ring of increased autofluorescence imaging was seen in most patients (75%). Supernormal mixed maximal response b-wave was seen bilaterally in 63% of patients (and high normal in 37%). Rod dysfunction with prolonged rod b-wave latency was detected in all. The 30-Hz flicker response was more reduced and delayed compared to the single-flash cone response. A novel homozygous missense variant c.530G>C (p.Cys177Ser) in
KCNV2
was detected in one patient, the nonsense homozygous mutation c.427G>T (p.Glu143*) was found in 13 patients, and the nonsense c.159C>G (p.Tyr53*) was found in one patient.
Conclusion
This is the largest cohort of CDSRR from a single ethnic background. Rod dysfunction and reduced 30-Hz flicker response were demonstrated in all patients. In contrast to previous descriptions in the literature, a supernormal combined dark-adapted rod-cone ERG was present in the majority of the patients at standard stimulus intensity. Considering the consistent genotype and the demonstration of likely pathogenic genetic variants in all the patients, we argue that the combination of delayed rod b-wave and subnormal flicker response strongly suggests the diagnosis of CDSRR.