01.11.2013 | Reproductive Medicine | Ausgabe 5/2013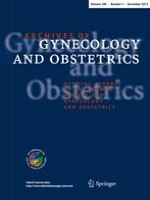 Analysis of
SYCP3

encoding synaptonemal complex protein 3 in human aneuploidies
Zeitschrift:
Autoren:

Andreas Roos, Constantin S. von Kaisenberg, Thomas Eggermann, Gesa Schwanitz, Christine Löffler, Anja Weise, Kristin Mrasek, Annelore Junge, Almuth Caliebe, Britta Belitz, Monika Kautza, Herdit Schüler, Klaus Zerres, Simone Heidemann
Wichtige Hinweise
Dedicated to Prof. Dr. med. Werner Grote on the occasion of his 75th birthday (17.4.2013).
This study complies with the current laws of the Federal Republic of Germany.
Abstract
Objectives
To test the hypothesis that mutations of
SYCP3
encoding synaptonemal complex protein 3, result in increased frequency of aneuploidies in humans.
Methods
Mutation analysis of the PCR-amplified 8 coding exons and exon–intron boundaries of the
SYCP3
gene was done by direct sequencing of DNA isolated from 35 aneuploid fetuses of women having a potentially increased likelihood for an underlying genetic predisposition for chromosomal non-disjunction.
Results
Based on the results of conventional karyotyping, the 35 aneuploid fetuses of 33 women were divided into separate groups: 9 aneuploid conceptuses of couples with recurrent aneuploid conceptions (4 of the women 35 years or younger), 12 conceptuses with double/multiple aneuploidies (5 of the women 35 years or younger), and 14 conceptuses with single aneuploidies of women younger than 35 years (8 trisomies and 6 monosomies). No pathogenic mutations in the
SYCP3
coding exons and the immediately flanking intronic sequences were found.
Conclusions
Under the assumption that genetic predisposition for chromosomal non-disjunction leading to aneuploidy is most likely polygenic in nature, our data suggest that
SYCP3
mutations are not one of the common causes in humans.